By Zander Frost, Chronicle Staff Writer

Dave Madden, the former owner of the Lake George A&W drive-in restaurant, has purchased, renovated and will reopen the Hudson Falls mainstay Zack's Drive-In.
"It might be before Memorial Day, but definitely by Memorial Day," Mr. Madden told The Chronicle.
He bought Zack's in Spring 2022 shortly after selling the Lake George A&W, which he operated for 44 years.
His daughter Claire will be the manager. "I'm doing it mainly for my daughter and my grandson. And my employees," Mr. Madden said. "We have some employees that have been with us for 20 years or so at the A&W that are going to follow us down to Zack's."
Zack's did not open last year while the Maddens made major renovations.
They've repaved the carhop's parking lot. Inside: "Completely gutted the inside out," with new wiring, plumbing, floors, hoods, and a walk-in freezer, too, Mr. Madden said.
"We built everything except the actual frame of the building," he said.
A Pittsfield native who was raised in South Glens Falls, Mr. Madden said he had never eaten at Zack's, which was founded in 1944.
But, he says, "According to Facebook, it's very popular."
The post announcing Zack's return drew over 450 likes. "There is a God!!!" Cindy Brown enthused.
"They had a good reputation. It just needed to be remodeled," says Mr. Madden.
He says he bought the A&W 44 years ago similarly to how he bought Zack's.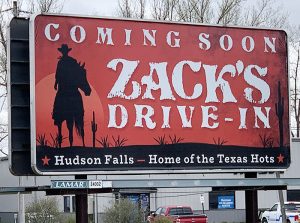 "I was sitting in the bowling alley one day, eating lunch, I looked across the street and saw the for sale sign on the A&W and went across the street and bought it," he said.
Beyond his daughter Claire, he said his grandson Kellen, 13, and ex-wife will work there too. "So it's a family operation. Just like the A&W was."
The menu will see an "upgrade."
"We're still gonna have the Texas style hot dogs with the special sauce that came with the place," Mr. Madden said. "Zack's has a special recipe that people seem to be nuts about."
Sauces will still be made on premises.
"We're doing the hot dogs Zack's way as opposed to A&W way. They're both Michigans or Coney dogs or whatever you want to call them," he said.
"We're going to upgrade the hamburger menu and have Philly steaks," he added.
Mr. Madden said he was alerted to the Zack's opportunity by a drone operator inspecting the A&W to facilitate its sale.
As quickly as Mr. Madden exited his A&W, he got into Zack's. "I just had this money. I'd rather give it to my estate than to the government, so I decided to spend it on Zack's to kinda offset some of the capital gains." Mr. Madden said Zack's is "90%" done.
Copyright © 2023 Lone Oak Publishing Co., Inc. All Rights Reserved