By Zander Frost, Chronicle Staff Writer

Yankee Boating — the 57-year-old family-owned Lake George marina — is building a $2.5-million storage facility across from Roaring Brook Ranch on Route 9N west of Northway Exit 21.
Owner Andrew Brodie said he's been approved for three buildings. He'll have indoor, outdoor, and now heated indoor storage, "which I don't believe anyone else in the area is providing."
He said Yankee currently can store 150 boats and that "the new facility will give us the capacity to store at least 160 boats indoor, and then an additional 150 boats outdoor."
"It's a big investment for us," Mr. Brodie said. "Investing in my own land and my own property — and getting out of leasing everything from year to year for storage."
Mr. Brodie said two years ago, he and his brother split the family businesses launched by their parents Bob and Sheila Brodie in 1966.
Andrew Brodie said his father "had been selling dinghies out of Broadalbin out of his garage prior to that," then left his job as an engineer to purchase the marina in Lake George in 1972.
Andrew and his wife, Christina Brodie, "purchased Yankee Boating Center from my parents two years ago," he said. Mrs. Brodie is the marina manager.
Andrew said his brother Jon "purchased Brodie's Lakeside Marina and Little Harbor Marina."
Yankee Boating Center has two properties — a dealership and a marina — both on Lake Shore Drive in Diamond Point. They offer boat rentals, sales, accessories, service and storage.
Mr. Brodie said for roughly a dozen years he's leased land and facilities for storage. "I've been looking that whole time for some flat land in the area that's developable for boat storage.
"I finally found some I purchased back in 2018 and 2019, and got the ball rolling on getting some permitting, eventually ended up in front of the APA" — Adirondack Park Agency.
The land was "an undeveloped nine acre lot across from Roaring Brook."
"It took two and a half years to go through the APA," Mr. Brodie said.
Finally, "last fall I got all the permitting I needed."
But by then, Mr. Brodie said prices on the project had drastically increased.
"Price of steel buildings doubled, interest rates went up," he said.
"Numbers I'm looking at now don't look anything like the numbers I was looking at when I first started this project.
"That's how I ended up having a conversation with the IDA [Warren-Washington Counties Industrial Development Agency], because I kind of put things on pause," he said.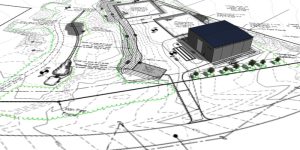 Now, the project is moving forward. "The land's been cleared, they're working on stormwater and looking to have
two buildings put up and erected for winter storage this winter," Mr. Brodie said.
They have some storage at their marina and sales lot, but Mr. Brodie said, "with the new lines we've picked up…it's been getting so crowded, so this will give us some room to breathe."
He said that in 2020 Yankee added Godfrey Pontoons that have proven very popular, and in 2023 they added highend
Nautique Ski & Wake boats priced as high as $200,000.
He said Yankee "made some other investments the past couple years in our service facilities at our showroom — three more service bays. We added more rack storage so we could expand how many boats we can put on our sales lot."
"We just want to be a premier provider of boats, boating supplies, and boating services for our region," Mr. Brodie said.
"That includes Saratoga, Lake George, lower Adirondacks. And our focus is to continue to do that."
Copyright © 2023 Lone Oak Publishing Co., Inc. All Rights Reserved