By Gordon Woodworth, Chronicle News Editor
An emotional meeting for members took place Monday night at the Global Fitness gym and Athletic Academy on Glen Street in the former Glens Falls Junior High School building.
It was two days after Denny Wilhelm, the former Glens Falls basketball star and high school teammate of Jimmer Fredette, was charged with possessing more than a pound of cocaine.
Speakers included Mr. Wilhelm's parents, Den and Barb; Al Fredette, who is Jimmer Fredette's father; and personal trainer Stacey Angell, who was a co-owner of the gym with Mr. Wilhelm and will continue to train clients there.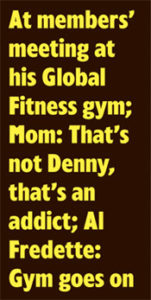 Barb Wilhelm said her 28-year-old son hadn't been in the gym for more than a month because "he didn't feel fit to be in front of any of you."
She said after his 2012 arrest for heroin possession, he was living in a halfway house, "got a membership here, became manager, bought out the other partner, and worked from 5:30 in the morning to 10 at night. This became his life and it saved his life. Every single person who came to the gym was important to him."
She said, "The Denny you have seen in the news is not Denny. That's an addict, my friends. We are very sorry for all of this."
Mr. Wilhelm and Catherine Peacock, 30, of Glens Falls, were arrested late Saturday night after being stopped on the Northway in Queensbury by State Troopers.
They charged Mr. Wilhelm "with one count of Criminal Possession of a Controlled Substance 1st Degree, an A-1 Felony, and Criminal Possession of a Controlled Substance 3rd with intent to sell."
Ms. Peacock was charged on those counts, and other drug possession counts. Both were being held in Warren County Jail without bail, police said.
Ms. Angell said, "Denny was the heart and soul of this gym. Our hearts are hurting, and this a good reminder that no one knows the battles we all face every day."
She said he hadn't been around lately. "He wasn't coming in when he was dealing with this. He could only be here if he were in a safe place…He had a lot of great things in place before he went down this dark path…We're going to carry out his vision."
Al Fredette: 'We're moving forward'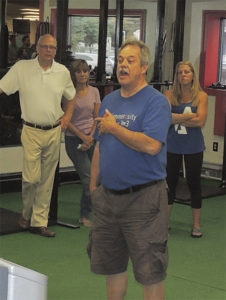 Mr. Fredette said he and his son Jimmer are part of AJDP Holding Corporation that owns the gym. Gabe Rybicki, an executive consultant to AJDP Holding Corporation, told The Chronicle Tuesday morning that AJDP has taken over control, and is going to work with the Fredette Family Foundation to make this more of a community-based organization."
Mr. Fredette said, "Denny is like a son to me. We put ourselves out there as a company that cares, and we've spent a lot of time and effort to show kids how important character is and how far it can take you in life…
"The program is moving forward just as good or better than it was…While Denny gets better, we're going to be moving forward and kids are going to be taught good traits to develop good character."
Mr. Fredette said, "It only takes one time to get started" with drugs, "and we don't want you to do it, and I know Denny would be here with tears in his eyes telling you the same thing."
Mr. Fredette introduced three personal trainers — Winston Jackson, Tony Minor and Kyle Kelly — who he said will continue working with clients at the gym.
"Denny learned from my nephew Lee Taft," Mr. Fredette said of the Whitehall native and prominent personal trainer. "We have access to Lee, and he will be coming here to work with these three guys. And they hopefully will become Lee Taft licensed, and that's a big deal."
vAs the meeting ended, one man said, "I'm glad we are mourning the poor decisions made by my friend Denny, and not mourning the loss of my friend Denny."
Copyright © 2017 Lone Oak Publishing Co., Inc. All Rights Reserved.