By Gordon Woodworth, Chronicle News Editor
Construction will start next spring of the long-planned Sacandaga Whitewater Park between Lake Luzerne and Hadley, creating the first of three whitewater channels for kayakers, surfers and boogie boarders.
Large boulders will be strategically placed in the Sacandaga River just downstream from the railroad trestle, creating "a wave not unlike an ocean wave," said John Duncan, owner of the Sacandaga Outdoor Center and a member of the not-for-profit Sacandaga-Hudson Advisory Council that has been developing the idea for 15 years.
"The wave stays in one place, and surfers and kayakers do tricks on the wave," he said. "They spin and do cartwheels and flips. It's incredible to watch. We hope to host regional, national and international events down the road."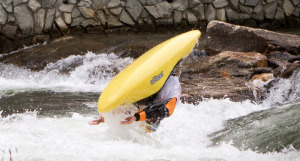 The park is being designed by the Denver-based McLaughlin Whitewater Design Group, which has designed more than a dozen canoe/kayak destinations in the U.S. One, on the Nantahala River in western North Carolina, hosted the 2013 World Freestyle Kayaking Championships.
Mr. Duncan said he's confident the park, within a day's drive of more than 43-million people, will succeed.
"Eight of my employees are right now driving 14 hours to West Virginia to do what they will be able to do here," he said when interviewed. "And they aren't alone."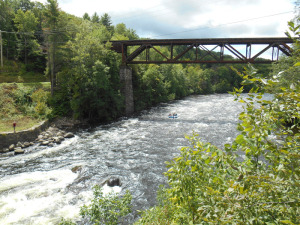 He said there are more than 100 whitewater parks in the country, but "there are no others in the northeast.
"The nearest is in western Maryland. Others are being developed in Binghamton, Watertown and Auburn, N.Y., but they are years behind us in planning, and we have the infrastructure — motels and RV parks and campgrounds."
Contacted for comment, Lake Luzerne Town Supervisor Gene Merlino said, "I support it fully. It will provide more of a challenging course, and will be good for whitewater kayaking. We're going to help him with some bed tax money."
Every day on the Sacandaga, there are water releases of 4,000 cubic-feet-per-second (cfs) from Stewart's Dam though spring, summer and fall. Other popular whitewater rivers have seasonal releases, Mr. Duncan said.
"It's much easier to engineer the design when you don't have to engineer around low flow," he said.
The McLaughlin Whitewater Group's Website quotes the company's John Anderson as saying, "The daily 4,000 cfs water releases [are] a dream come true for whitewater fun. The river in its natural state is almost there for some really great waves. We'll be able to improve it to get the waves to form."
The project, part of the First Wilderness Heritage Corridor, is being overseen by the Warren County Planning Department, said Tracey Clothier, a certified environmental planner with the LA Group, who was hired to obtain the necessary permits.
"We have received a $200,000 state matching grant, and now we are raising the $200,000 we need in matching funds," she said.
Mr. Duncan said about $60,000 has been raised so far. Additional funding will be sought from the Warren County Occupancy Tax Committee, Saratoga County and corporate partners. He said Brookfield Energy, which owns the dam up river, has given $125,000 over the last dozen years to help fund planning.
"Once it is built, it's there, and will produce waves forever," Mr. Duncan said. "We are moving ahead as though we will secure the funding that we need."
A 2008 economic impact analysis projects a 15-year impact creating 24 jobs and generating $1-million in sales tax revenue. It projects break-even within two years.
Ms. Clothier said the park has gotten the go-ahead from the Adirondack Park Agency, the Department of Environmental Conservation, the Army Corps of Engineers and the State Office of General Services.
"Northern Saratoga County and western Warren County are kind of neglected," Ms. Clothier said. "They don't receive a lot of attention from funding agencies or tourists. The whitewater park is designed to bring attention to this area, and I believe it will be the spark for other adventure tourism projects."
Copyright © 2014 Lone Oak Publishing Co., Inc. All Rights Reserved.