By Mark Frost, Chronicle Editor & Publisher
For as many years as we've been dining at the ever-popular Ridge Terrace, on Route 9L, Upper Ridge Road in Queensbury, I'd never sat down and talked with owner Ray Rios until last week.
Ray, now 76, has an amazing story to tell. Born in Juarez, Mexico, he started working at the age of 8 as a dishwasher in a restaurant that drew "a lot of tourists. The war just ended. You were very busy."
Ray worked his way up to bus boy and waiter, but said he ran afoul of the union that represented the waiters. He said the bus boys were supposed to receive 25% of the waiters' tips, but that they were being given drastically less. Ray said he objected, was ordered to let it go, paid his bus boy the 25% and pressed the issue.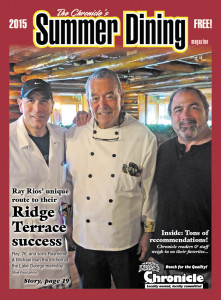 Maybe that was a catalyst for Ray to enter the U.S. A regular customer who had a restaurant in Westhampton, Long Island, called the Dune Deck "gave me his card. 'You come see me; I get you a job.'"
In 1953, at 14, Ray made the passage with three buddies in a "1946 Buick Dynaflow." It took them 10 days. The man at the Dune Deck was true to his word.
Each summer, from 1953 to 1957, Ray worked in the Hamptons, returning to Mexico each fall. (The Dune Deck was a happening spot. "Chubby Checker played there, Fats Domino," said Ray.)
In 1957, he and a co-worker, Norma, from the Guglielmi family in Glens Falls, hit it off. "We met in June, married in September," says Ray. Now it's 57 years and three children later.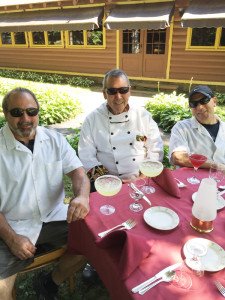 The Rios children all are involved in the restaurant. Michael and Raymond cook with their father in the huge, immaculate kitchen. "We work here a lot of hours. I want to make it like my home," says Ray. Daughter Gina, her daughter Madeline and Norma work out front.
Michael, in the off-season, also operates Guglielmi's Bar, the venerable business on his mother's side in Glens Falls.
Ray is all about the work ethic, which is just as evident in his sons. This past Sunday, with the temperature sweltering, Ray was outside in a drenched T-shirt doing property maintenance. Call for a reservation before the restaurant opens, and probably it will be sons Raymond or Michael who'll take it. When I looked to set up a photo of the three men, I had to snap fast — they've got things to do.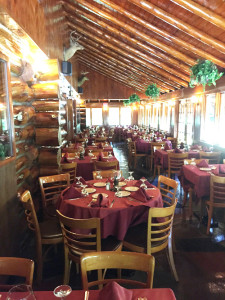 Ray says his work ethic kept presenting him with opportunities. In Glens Falls, he cooked at The Montcalm (he speaks highly of then-chef Francisco Vigilante), and at Alfonso's. He was a meat-cutter at the Armour plant, even apprenticed with Charles Garlen, whose Jewish Queen City Bakery here was legendary.
Wherever he was, Ray said he gained experience — learned sauces, meats, seafood — leavened by "common sense. Nobody can teach you that."
In 1969 Ray was hired at The Ridge Terrace by its owner Fred Deitch. Two years later Fred offered Ray the chance to buy it. "He knew about my work, my effort," says Ray. After some hesitation, Ray says, he and Norma took the plunge in 1971. They've operated it seasonally ever since.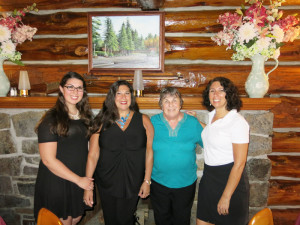 Close to Lake George's east shore, the Ridge Terrace has a clientele of both summer lake residents and year-round locals.
The Rios work ethic drew more notice. Ray says that local bankers Hubie Brown and George Reger were regular customers and told him, "You need something, you come see me."
Ridge Terrace's approach is old school. Entrees come with the salad (homemade dressings), small loaf of bread, appetizer carousel of cole slaw, potato salad and kidney bean salad, all homemade, like the desserts. Entrees have elaborate sauces and preparations, though my wife and I like the straight-ahead strip steak and tenderloin. Call it a classic American success story, by way of Juarez.
Copyright © 2015 Lone Oak Publishing Co., Inc. All Rights Reserved.