By Gordon Woodworth, Chronicle News Editor
Even before it officially opened, the Algonquin restaurant's new Topside Hacker-Craft bar was already attracting a crowd.
Owner Keith Scott teamed up with Lake George luxury boat-maker Hacker-Craft to create the mahogany bar.
As he showed this reporter around, several downstairs customers quietly came up the stairs to sneak a peek.
"Come on up," Mr. Scott said again and again. "Check out our new bar!"
It's a regular bar, but with all Hacker-craft details. The wood is all mahogany. The custom-made Hacker-stitched bar stools are "the same seating as they have in their boats," Mr. Scott said.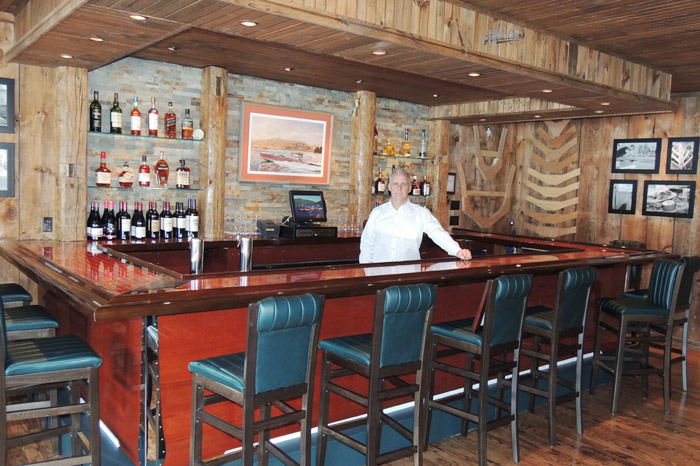 Even the hardware on the lift-up "engine hatch" at the end of the bar is authentic.
"Everything is true to a boat form," Mr. Scott said. "We knew if we were doing something with Hacker, it would be top notch.
"I love the masculinity of it. It's very masculine and very stately."
Built by Jerry Flynn of Flynn Builders in Lake Luzerne, the bar offsets the rustic interior wall made of repurposed boards from barns in Bolton and Horicon, and from the Storied Boards company in Lake George, Mr. Scott said.
"There was no bar up here before," he said. "We used this as a function space, and several years ago I came up with a Hacker boat theme. I had a handshake deal with the previous owners of Hacker-Craft, but then the company was sold."
The idea came back to life last fall when Mr. Scott met Michael Bonn, Hacker-Craft's director of sales, and Hacker sales consultant Tom Culligan, in the Algonquin's downstairs bar. "They fell in love with the idea, and ran with it all the way to Hague," he said, laughing.
The partnership, Mr. Scott said, benefits both the Algonquin and Hacker-Craft.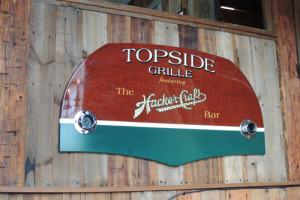 "They get to showcase their product in a setting that has a lot of visibility…And it's a huge asset to us. We have always had the view. The food is great, the service is great. This is the icing on the cake."
Contacted for comment, Hacker-Craft vice president of operations Erin Badcock said the bar "brings a lot of awareness to our brand. It's a great location that offers great visibility."
Mr. Scott said he and business partner Brad Irvine spent "in the range of $50,000 to $60,000" on the new bar and the Topside renovations.
"Hacker-Craft also gave us some memorabilia to put up," he said. "It's almost like adding another showroom for them."
Mr. Scott said he doesn't own a Hacker-Craft, "but I'm considering purchasing one now."
He said during the summer, whenever someone drives up to the Algonquin docks in a Hacker-Craft, "everyone's head turns."
Bar 'christening' set

The Algonquin's new Topside Hacker-Craft bar will officially be "christened" during a public party on Saturday, April 18, from 6 to 9 p.m.

"Mike LaPoint will provide live music, and we'll have complementary hors d'oeuvres and a cash bar," owner Keith Scott said. Info: 644-9442.
Copyright © 2015 Lone Oak Publishing Co., Inc. All Rights Reserved.