By David Cederstrom, Chronicle Staff Writer
Maserati. The name conjures up images of high-performance Italian sports cars, expensive beyond the means of any humble newspaper reporter, yet there I was last Friday tooling down the Northway in a brand-new, 454-horsepower, $153,000 Maserati GranTurismo convertible. It wasn't mine, unfortunately.
Members of the news media were offered a Maserati test drive opportunity promoting addition of the Italian car line to the DePaula car dealership in Albany, and the DePaula Drive for Charity's "La Dolce Maserati" live auctions in Saratoga to benefit several charities.
I jumped at the chance. With Kara DePaula (you've seen her in the dealership's TV ads) in the passenger seat, we set off from the Racing Museum in Saratoga.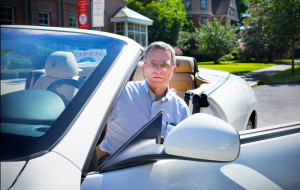 First impression: After settling into the Maserati's six-way power-adjustable leather seats, you find that your initial pressure on the gas pedal doesn't do a lot, producing a sedate, almost anemic, acceleration. A good feature for city driving, but where the heck is that 454 horsepower?
Step on the gas with authority, though, and the horsepower kicks in. The car rockets ahead, while its solid stability and responsive steering keep you in control.
There wasn't much opportunity for that while skirting downtown Saratoga, but looping down to Exit 13 to get on the Northway provided a chance to let the engine do its thing.
The car will go from zero to 60 in 4.8 seconds, Ms. DePaula said.
The speedometer goes up to 200. (I did not attempt to see if that's realistic.)
The car features a mix of old and new. An old-style analog clock sits above the computer touchscreen in the center console. The analog speedometer and tach flank a small digital display tucked in between them.
Asked why they added the Maserati line, Ms. DePaula said, "The more and more that this area is developing, you realize that there really is a strong demographic for expensive cars."
She said incomes, especially with the GlobalFoundries computer chip plant now in Malta, justify "niche marketing" a higher-priced car. Plus, Maserati is "trying to broaden their spectrum of vehicles," with a base model at $65,000 and the addition of an SUV.
Winning bidders in the charity auctions will board a Saratoga North Creek Railway vintage Art Deco railroad car in Saratoga Springs on Oct. 4 for a ride to Thurman.
There, they'll be "greeted by a fleet of Maseratis" to drive for an hour or so, says a DePaula press release. "Italian delicacies and libations" will be served on the train.
DePaula Maserati charity events this summer will include: Skidmore's "Polo by Twilight" Palamountain Cup, July 28; Equine Advocates, July 30; Saratoga Hospital Gala, Aug. 5; sponsorship of Racing Museum Gala, Aug. 14; sponsorship of Travers Ball, Aug. 27, and (not yet confirmed) sponsorship of the National Museum of Dance Gala, Aug. 8.
Info: See La Dolce Maserati's Facebook page.
Copyright © 2015 Lone Oak Publishing Co., Inc. All Rights Reserved.