Congresswoman Elise Stefanik will conduct a public open forum on Thursday, April 5, from noon to 1 p.m. at the Moreau Community Center in South Glens Falls.
Chronicle editor Mark Frost will moderate, at the Congresswoman's request.
Rep. Stefanik's office described the event as "her 16th open, public 'Coffee with Your Congresswoman' event."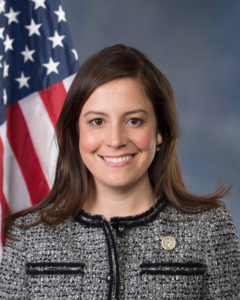 It said, "Congresswoman Stefanik will answer questions from those in attendance. Doors will open…at 11:30 a.m."
It said, "This event is open for constituents of New York's 21st Congressional District."
The Moreau Community Center is located at 144 Main Street in South Glens Falls.
Copyright © 2018 Lone Oak Publishing Co., Inc. All Rights Reserved.