By Zander Frost, Chronicle Staff Writer

The redrawn New York State Assembly and Senate district lines have been released, with significant changes locally.
Opponents have vowed to challenge them in court.
Republican State Senator Dan Stec's 45th District becomes the 47th, stretching from the Canadian border as far south as Mechanicville. It contains all of Warren, Washington, Essex, Hamilton, Clinton and part of Saratoga and Fulton Counties.
New to Mr. Stec's district would be Moreau, Corinth, Hadley, Galway, the Town of Saratoga, Cambridge, Easton, Indian Lake and Loon Lake.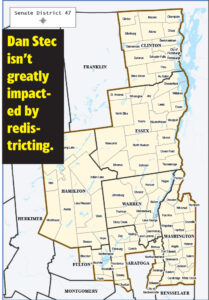 Mr. Stec would no longer represent Franklin and St. Lawrence counties.
Mr. Stec, unlike Congresswoman Elise Stefanik and Assemblyman Matt Simpson, will continue to have Glens Falls in his district. It was removed from theirs.
Mr. Stec's GOP colleague Senator Daphne Jordan now faces a redrawn district less hospitable to a Republican. It has Troy and Schenectady and gives up Republican Rensselaer County.
Copyright © 2022 Lone Oak Publishing Co., Inc. All Rights Reserved