By Cathy DeDe, Chronicle Managing Editor
Get a first taste of Upstate Boys, the documentary-in-progress by one Glens Falls graduate who happens to be a filmmaker and rock climber about another who is wheelchair-bound, at an event called Rare Disease Day at the Movies on Monday, Feb. 29, at 6 p.m. at the Bowtie Cinemas at 19 Railroad Place in Saratoga Springs.
Dylan McDonnell, 38, is the local face of Friedreich's Ataxia, a progressive neuromuscular disease it took years to finally diagnose, when he was 17 years old.
He and his family, including his mom Terry and dad, musician Dave McDonnell, stage an annual fund-raising concert in September for the Friedreich's Ataxia Research Alliance, a non-profit group.
Shane Borza, a year ahead in school, never knew Dylan when they were at Glens Falls. They were introduced just a couple of years ago by Shane's mom, Debbie Westcott. She worked in the office of Dylan's cardiologist, and urged her son to make a movie about Dylan.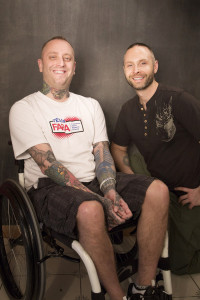 In the process, the two men became friends, bonding over a shared love for tattoos, heavy rock music and horror movies.
Shane observed that what he experiences as a rock climber is not unlike the challenges Dylan faces in his everyday life — the difficulty of putting one foot in front of another, taking one step at a time to accomplish goals, whether it be climbing a mountain or simply getting dressed.
Filming for the movie took place in 2014.
Shane tells The Chronicle he's headed into post-production now, looking to hire an editor and, hopefully, complete the documentary by the fall. "I want to have it ready for the fall and winter film festival season," he said in a phone interview from Los Angeles.
Meanwhile, he put together a brief trailer and personal introduction for Monday's event.
His goals have changed as he's gotten more deeply into the project, Mr. Borza said. "Initially, I saw it as a story about the two of us. Now — Glens Falls is an interesting microcosm. In LA, there are 20 million people. If I mention Friedreich's Ataxia to 100 people, no one knows what it is. In Glens Falls, no matter who we talk to, everyone at least knows what it is, because of what Dylan and his family have done: 'That's the thing they do the concert for.'"
He says, "I want for the whole country to have the Glens Falls community's atmosphere of knowledge. That would be great."
Mr. McDonnell tells The Chronicle that his is just a small part of Monday's event.
The screening is organized by a group called The Patient Experience Project, which supports families whose children are suffering from illnesses or diseases that are rare or difficult to diagnose.
Mr. McDonnell says the message is, "Hey, there's stuff out there besides cancer and AIDS. If you know somebody who has something nobody's ever heard of, it's a way to just put faces to it. I like to think it's not just a disease. There's people behind it."
He said he'll be joined by a FARA ambassador Jacob Tompkins of Tivoli, and FARA program director Kyle Bryant of Philadelphia, who also has an FA documentary in the works, it turns out.
•
Tickets for Monday's screening cost $10, and include a reception, table displays and several short film presentations. Info: rarediseasemovienight.eventbrite.com.
Copyright © 2016 Lone Oak Publishing Co., Inc. All Rights Reserved.