By Mark Frost, Chronicle Editor
An overlooked piece of history set for imminent oblivion at the Seagle Music Colony in Schroon Lake instead has had its story revealed and existence preserved, all just in the nick of time.
This is a story about "The Closet," a tiny, 12 by 6 side room about to be demolished because it was deemed a hazard.
And it's about Fulton Fryar, who at age 17 in 1957 rode the bus here from segregated North Carolina and stayed in that room as the first African-American attendee at the nation's oldest summer vocal training program.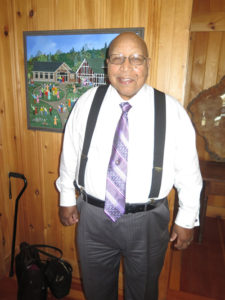 "I didn't know I was the first black student here until yesterday," Mr. Fryar, now 76, told The Chronicle on Sept. 27, when he returned to the camp for the first time in 59 years, having gotten a call out of the blue that made his wife Barbara wary. "I said, that sounds fishy.
Seeing the sparse wood 'Closet' now, Mr. Fryar's thought? "How could that still be here 60 years later?"
Jonathan Green, Steve Engelhart
The Fryars' visit was part of a whirlwind two-month sequence involving Seagle Music Colony; Jonathan and Roberta Green, friends of Seagle Colony Artistic Director Darren Woods; former Chester Town Supervisor Fred Monroe; the preservation group Adirondack Architectural Heritage; and the Adirondack Experience (formerly the Adirondack Museum) in Blue Mountain Lake.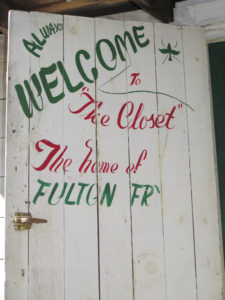 "We wanted to save it. We didn't know how to do it," says Seagle's Mr. Woods. "Literally the Adirondack Museum was the lifesaver. It was the perfect way to continue the story."
It happened because Mr. Green took it on as his personal mission. "They were gonna demolish it. Darren said it was going down before the first snow," says Mr. Green, who notes, "I have a certain interest in African American social issues."
"After I saw and photographed The Closet with Darren and Steven Bryant… I immediately spoke with Fred Monroe to see if he knew anyone at The Adirondack Museum who could help…it was the place I believed would be the best home" for it.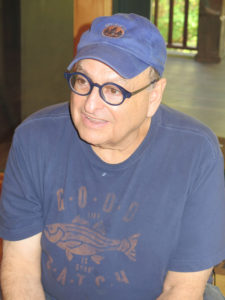 "He gave me [Adirondack Experience Executive Director] David Kahn's name because he had just worked with David on the 'Life in The Adirondacks' exhibit."
Mr. Green continues, "When I was asked at the museum about the subject of my call, the receptionist said the [curator] Laura Rice might be a better choice. I sent Laura the photos, she said she was 'intrigued' and that Steven Engelhart would be the perfect person to lead the effort. She's the one who gave me his number."
Mr. Engelhart heads Adirondack Architectural Heritage (AARCH) in Keeseville.
Mr. Green says, "I can't emphasize enough how much of the success of getting the museum to take The Closet was the result of Steven's experience, skills, connections and passion. He's a real pro who patiently dealt with my concerns and the pressure of my probably annoying phone calls due to what I considered the looming deadline of demolition. What a find he is!
Adirondack Experience steps up
"Laura, too, should be praised," says Mr. Green. "I've had a bit of experience with museum curators and know that not many would have responded so positively to a cold call like mine.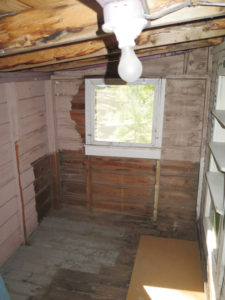 "What also might interest you is that, when I asked Steven if any of his preservation efforts took only two months, he said that this was a first. Usually, they go on for five or six years, sometimes with litigation involved.
"Here, the value and message of The Closet on so many different levels was clear, support of the Seagle community was strong, and the museum will be getting a concrete and graphic — and easily transportable — piece of Adirondack/African American history that Laura said they plan to add to the 'Life in The Adirondacks' exhibit."
Ms. Rice says, "It's pretty exciting for us. We think of the Adirondacks as being not diverse…but there's this whole hidden history. This is going to give us a real opportunity" to tell some of that story.
She adds, "It's also an opportunity to be able to get to know The Seagle Colony, the rich arts tradition," which Mr. Woods said the museum wasn't previously aware of. The Seagle Colony is 103 years old.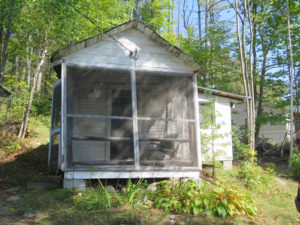 Wife Googled Fulton Fryer's name
Mr. Green's wife Roberta took the historic quest to a whole other level. She Googled Fulton Fryar's name and hit the jackpot — finding him alive and living in New Jersey.
Clinton, North Carolina, "was where I was born and reared," Mr. Fryar says. "I grew up going to a black school. We had separate school systems — a black system, a white system, an Indian system. I come from a town that was segregated….I didn't come from a place where you had opportunities like these."
But Mr. Fryar's singing had drawn wider notice. "We went from our school one day to do a concert at the white school," and he says there were adults who "wanted to see something happen with me."
He'd just graduated from high school in 1957. He says they'd wonder, "What's he doing? Is he going to school?" Asked if these supportive people were black or white, Mr. Fryar replies, "They were just people.
He says, "The doctor put me in to get me to Schroon Lake," and a lady named Polly Poole "suggested me. She got in touch with Mr. John Seagle," and Mr. Fryar made the very long bus ride to Schroon Lake for the summer — "my first time being away from home that long. I was 17 years old."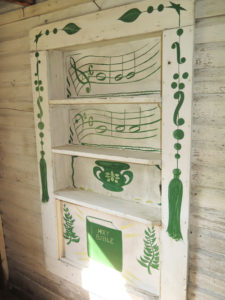 What did his parents think? "My mother was glad…My father wanted me to stay and work and put some money in my pocket."
Mr. Fryar says he got along well with the other students, but he slept apart — in the tiny room built onto the laundry building.
"This was my home. The Closet. It was a place for me to sleep," he says. Unfazed, he saw advantage to his lodging. "I didn't have anybody to keep me up all night," he says. "Nobody singing '99 Bottles'" of beer.
He painted on its door: "Always Welcome to The Closet, The Home of Fulton Fr[yar]."
"I wanted it to be more than just a little room," he says. "I changed it up. It was such a small little place. I thought I would name it The Closet."
Inside, he painted lines of poetry and some artistic flourishes, with a skill that ran in the family. Mr. Fryar said his father was a Methodist minister who was also a paint contractor, and Mr. Fryar's brother was "a self-taught artist and sign man."
Mr. Fryar returned for the summer of 1958 and stayed there again. To help defray the cost of attending, "I worked in the pantry cleaning dishes after meals, I was never against washing dishes." And he said he painted scenery, which he enjoyed.
Then his voice changed…
Mr. Fryar was a tenor and says, "I wanted to be Mario Lanza." After Seagle, it was arranged for him to sing before Marian Anderson, the pioneering African-American opera singer, and to attend Trinity in San Antonio, Texas, an elite "all-white" school.
But his singing career never developed.
Still in his teens, "I couldn't push notes out like I was used to," he recalls. He says specialists couldn't diagnose his problem, until finally came the realization, "I was 19 years old and having a voice change and I didn't know that." He went from tenor on the way to bass baritone. He wasn't happy.
"My life was going to turn real dark," he says. He says he decided, "I better get some discipline, so I joined the military," serving four years and nine months in the Air Force. "I didn't like that too much, but I got a chance to sing some more."
Success in singing competitions propelled him to sing at other Air Force bases.
"That was a thing I was able to do…that I probably would not have been able to do had I not come here," Mr. Fryar said.
"I didn't have a fear of trying to stand before people when I was in the Air Force and sang. I would have nervousness doing a song but I had no fear."
'God did that'
After the service, Mr. Fryar said he spent his career especially working with children at Catholic Charities in Nanuet, N.Y. He directed a choir at his Methodist Church.
"He's a father figure," says his wife Barbara. "He's a good man. He's a deacon in the church."
Mr. Fryar says of good fortune in his life, "God did that," and he rejects bitterness about any unjust treatment he might have received. "It helps nothing," he says. "I have been angry but I wasn't bitter."
He envisions more Seagle Colony in his future. "I'm gonna come back here, God willing," he says. "I'm gonna see a performance."
Copyright © 2017 Lone Oak Publishing Co., Inc. All Rights Reserved.