By Zander Frost, Chronicle Staff Writer
The Gym 518 has moved to the 26,000 square foot former TJ Maxx space in Aviation Mall.
South Glens Falls native Ryan Holderman founded the business in 2014. Its focus is personal training and classes.
"The idea behind it was to do something completely different that we didn't have around here," Ryan said.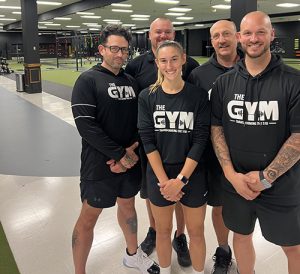 "People typically don't know what to do, and the biggest thing that they need is someone that believes in them more than they believe in themselves," he said.
Ryan said The Gym has five trainers on staff. He says they "are people of character. They're not just rep counters."
Ryan always touts the community aspect of The Gym. "I don't care what walk of life anybody's from — if you're a plumber, or an electrician, a business owner, if you're a teacher, everybody there has the same common goal to be better. So it's nice every day to incorporate more people in that kind of community."
Ryan said a lease issue prompted The Gym's move from a space at Queensbury Plaza next to Moe's Southwest Grill.
The mall space is much larger — allowing for a batting cage, "a massage therapist, indoor cycling. We've always had a physical therapist on site," Ryan said.
Plus "personal training, small group, normal group" classes.
"Now I have plenty of space to also do a kids camp at 5:00 at night where there's 10 8-12 year-olds running around while their parents are working out," he said.
Ryan said he opened the business after a long journey of trial and error.
He said, "I grew up with entrepreneurial parents," Dave and Debbie Holderman, who formerly owned Talk of The Town restaurant.
"I always wanted to own a business," he said, but he wasn't sure which.
After years of working jobs including restaurants, construction, "in the paper mill," and selling "papers at the track," he settled on training.
He spent four years in New York City. Confronted by the daunting cost of living, he returned to South Glens Falls.
Ryan said of the move to Aviation Mall, "I thought, as a challenge to me, I'd like to show other small or local businesses that this is a place that they could thrive, and drive in more traffic and build it back up again." But he adds, "I don't think your location will make a big difference if your product is that standout…If it was really great, and people really valued it, they'll drive wherever to go get it and make that exception."
Ryan said they've poured "close to $75,000" into revamping the former TJ Maxx space.
"We were there collectively for about 16 hours a day. And we put the gym together in there for like 10 or 12 days," he said. "The floors took 15 hours to strip and wax, they were that dirty. We had to replace ceiling tiles. We had to paint walls, bathrooms, offices, we put carpets down," plus buy lots of new equipment.
Ryan says of his philosophy, "If I see a client three days a week, they're responsible for themselves 165 other hours. So my job is just to hold them accountable, but also to boost their self-confidence by putting them in positions to win because chances are in the past, they probably haven't won.
"They've probably dieted, got injured, didn't do it the right way, quit on themselves too early, when it got really, really hard. So my job is just kind of make sure that they have someone there to pick them back up. It's also someone to keep them in check."
Copyright © 2023 Lone Oak Publishing Co., Inc. All Rights Reserved