"Drellos Starts Title Defense with Big Win in Devil's Bowl Speedway Opener," headlined the Vermont dirt track Monday.
Demetrios Drellos (of Queensbury) "picked up right where he left off last year…The reigning Sportsman Modified champion opened the new season on Saturday, May 1, with a dominant win during a wildly unpredictable night presented by Mike's Fuels of Bridport," said the press release.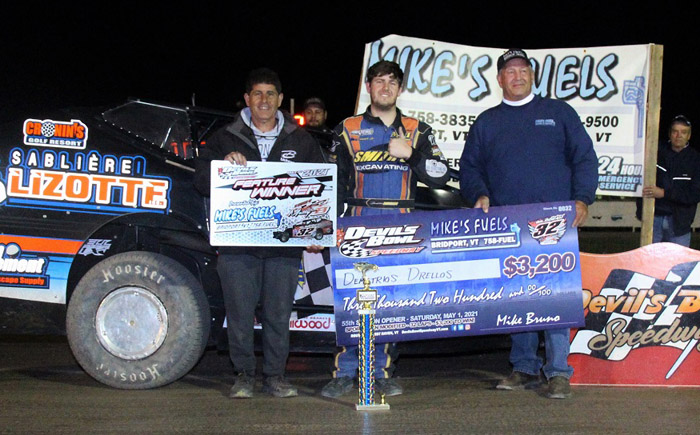 "A total of 118 racecars jammed the pit area and outer parking lot as a nice spectator crowd filtered in for the 2021 lid-lifter, and Drellos collected a whopping $3,200 for his victory in the race honoring the late Matt Bilodeau."
The press release said, "Drellos benefitted from a good draw for starting position in the 32-lap main event, and he was lucky to be ahead of an incredible wreck on the second lap that involved 10 cars and sent Frank Hoard III flipping wildly down the frontstretch; no drivers were injured.
"Don Mattison led the opening 10 laps in his return to Devil's Bowl, but…Drellos worked past him and stretched out to a healthy lead.
"Six restarts bunched the field and gave Tim LaDuc multiple chances to get to Drellos. The Orwell, Vt., veteran drove a brand-new car with extra motivation, as his mother, Barbara LaDuc — a staple of the local racing community for seven decades — had passed away the previous night.
"LaDuc tossed his car into the corners and put up a strong fight, but Drellos pulled away each time and knocked down the win."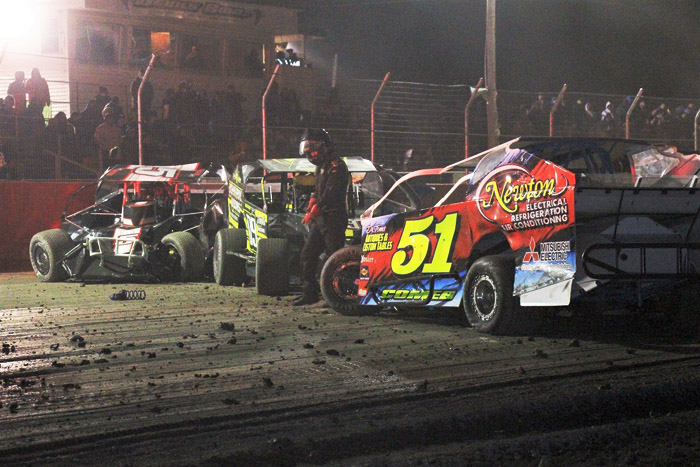 Connor Cleveland of Corinth finished seventh. Bryant Moore of Greenwich was 16th. Travis Billington of South Glens Falls was 17th. Jim Introne of Hartford was 21st.
"Devil's Bowl Speedway is ready to set records in 2021," its 55th season, said the high-octane press release from Justin St. John. "Race fans are in for a summer for the ages, as the fastest-growing track in the Northeast skyrockets into the new year."
"Grandstand admission is $12 for adults (age 13+), and $5 for children 12 and under. Infield Drive-In Parking, weather permitting, will be $20 for adults and free for kids. Pit Area admission is $25 for members and $35 for non-members. State-mandated restrictions remain in place; face masks are required, though vaccination cards are not.
"A cap will be placed on grandstand ticket sales per state guidelines, and fans are encouraged to buy grandstand tickets in advance online at https://buytickets.at/devilsbowlspeedway; an online processing fee will apply at the time of purchase. "Infield tickets and pit passes are not available online and will only be sold at the speedway on race day.
"Devil's Bowl Speedway is located on Route 22A in West Haven, Vt., four miles north of U.S. Route 4, Exit 2, and just 20 minutes from Rutland, Vt. For more information, visit www.DevilsBowlSpeedwayVT.com or call (802) 265-3112. Devil's Bowl Speedway is on Facebook at facebook.com/DevilsBowlSpeedway, and on Twitter, Instagram, and Snapchat at @DevilsBowlSpeed; follow the action using the #DevilsBowl hashtag.
Copyright © 2021 Lone Oak Publishing Co., Inc. All Rights Reserved