By Mark Frost, Chronicle Editor
At 23, racer Demetrios Drellos — touted as "The Greek Streak" — has been knocking on the door with numerous second- and third-place finishes at Devil's Bowl Speedway in West Haven, Vermont, but Sunday, Aug. 3, he barged right through it.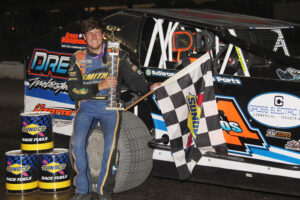 Track publicist Justin St. Louis enthused, "Queensbury, N.Y., youngster Drellos blasted through the Pepsi Sportsman Modified field from his 17th-place starting position on the extreme outside lane, chasing down and then engaging in a sensational side-by-side battle for the lead with Jack Speshock at lap 15 [of the 38-lap event].
"The pair traded the top spot three times before Speshock crashed out just after the halfway mark…
"With smooth sailing ahead, Drellos was able to clear traffic and drive away for his first victory of the summer in the 38-lap special, run in memory of pioneering Devil's Bowl champion Vince Quenneville Sr.'s most famous car number…"
Demetri, spoke to The Chronicle by phone Tuesday afternoon.
"The track was a little bit different this week," he said. "It slowed down a little bit. That helped us" as he navigated forward from 17th pole position. He started that far back because of his prior successes.
"This is our sixth year" racing, he said. He runs four vehicles in as many as 60 races a year, highlighted for him by Super Dirt Week in Oswego vying for $50,000 and races in Charlotte and Florida too.
"It's like a full-time job, but it isn't," Demitri says. His full-time job is as the sole employee in his father's business. "We operate Sanitary Sewer Service. We install septic systems and pump septic systems."
Demitri's "core four" support group is "my mom (Dawn), my dad (George), my wife (Alexis)…I have a crew chief, he's my best friend" Mikey Horton.
Demitri, who, incidentally, was home-schooled from the third grade on, has three long-term sponsors. "My biggest sponsor is Lizotte Transport…a really good friend of mine who I met in Canada." The other two are closer to home: Gross Electric and Green Management. "It's great the people you meet along the way," says Demitri.
Coronavirus has curtailed things. "With everything going on, it's just nice to be close to home," at Devil's Bowl in Vermont.
"I've been to a lot of races this year without spectators and it's kind of a bummer," he said. "It's nice to go to Devil's Bowl" where people can park their cars in the infield and watch, plus 400 socially distanced spectators can sit in the grandstand. Sunday night was Devil's Bowl's first sold out night of the season.
"It's nice to see 'em enjoying themselves," said Demitri. Of Devil's Bowl Speedway, he says, "They do a nice job with it."
For now, Demitri is still pointing to distant big upcoming races, but he realizes they may or may not happen. "It's just a waiting game," he said.
Does he consider car racing dangerous? "I can think of a lot more dangerous things to do," he said.
Devil's Bowl Speedway isn't far away. It's located on Route 22A in West Haven, Vt., four miles north of U.S. Route 4, Exit 2.
Info: www.DevilsBowlSpeedwayVT.com or call (802) 265-3112.
Copyright © 2020 Lone Oak Publishing Co., Inc. All Rights Reserved.