By Meg Hagerty, Chronicle Freelance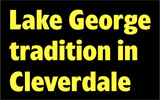 If it's a calm morning on Lake George in the summer, kids know to start showing up at about 7 at Pete Collins' house.
Usually the 83-year-old Mr. Collins is already up and about with his cup of coffee, and when there are at least a couple of kids hanging out on his dock, the Cleverdale man fires up his boat.
These kids, most in their early teens, learned to waterski years ago from Mr. Collins. They continue to hone their skills four or five times a week with him in the driver's seat, something he relishes.
"I assure them that none of them is having a better time out there than I am," he said.
Mr. Collins got his start waterskiing as a 10-year-old when his parents rented a house on Lake George. When he moved to Cleverdale in 1966, his own children were too small to ski but older kids would watch him out on the lake with his friends. Soon he was giving them lessons, and word spread.
In those days, he and his friends got on waterskis at dawn.
"We were finished by 7 o'clock so we could get to work," he said.
Over the years, Mr. Collins estimates he has taught 100 people, mostly kids, to waterski, including four of his children and his six grandchildren. He used to tow kids in his various Sea Rays, until he picked up his 1980 Ski Supreme boat about 10 years ago.
The hardest part about teaching is getting the kids up on skis for the first time.
"Once you get the feel of it, it's like riding a bike; you've got all the basics down.
"For the little kids we have ropes that attach right to the skis. Sometimes we even pull them by hand across the beach to give an idea, that would get them going, but with this boat we have a barefoot bar.
"It's a big bar that goes horizontally across the boat, about 10' from the side of the boat, and that's very helpful in teaching the kids. You can start up at a very slow speed and they're only 10 feet away and you can talk to them and tell them what to do. Once they take a couple of laps on that, they're better prepared to go on the ski rope," he said.
Most kids, he said, get the hang of it the same day they begin, although some don't always retain their skill.
"I had a girl here the other day, (she's) 13 or 14 now, and she came over here when she was 6 or 7 with her parents and she never skied before. She did one trip on this training bar and she said she wanted to do the rope. She got right up. She skied quite a bit with us. She hadn't been over in a couple years and she came over the other day and she couldn't get up," he said. "So you never know."
Emily Burns, 13, started six years ago with Mr. Collins and trusts him.
"He took his time and we started on a ski bar. He held the rope for us so we knew what it would feel like," she said. "When we make mistakes he tells us what to do next time. He's really patient."
Fourteen-year-old Anthony Halliday, who averages three times a week on water skis, likes the way he teaches.
"He understands everything about skiing and figures out the way to make it easier," he said.
In the past, some of Mr. Collins's students, mostly from Lake George school, would celebrate the last day of school by riding over to the beach on water skis.
"We had to leave them outside the 5 mile an hour zone so we would take them into the village docks," he said.
Mr. Collins, who retired as a division manager at Finch Pruyn after decades there in maintenance and construction, was an avid water skier until he was 60.
He had to give up the sport when he had hip replacement surgery. One replacement stemmed from an injury sustained years earlier while water skiing, whereas the other hip "just wore out."
This year is Mr. Collins's last summer living on Lake George. He and his wife Tina have sold their house and will rent an apartment in Glens Falls for the summer months and winter in Key West, FL.
The vintage Ski Supreme is now in the hands of his students, whose parents have been scouting out a place to dock the boat.
His days coaching kids might not be over yet, though.
"The kids have told me they'd like me to drive the boat for them," he said.
Copyright © 2020 Lone Oak Publishing Co., Inc. All Rights Reserved.