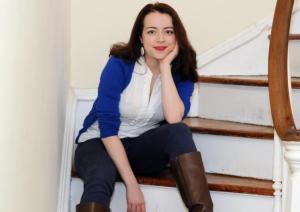 By Cathy DeDe, Chronicle Managing Editor
2004 Queensbury High grad Katherine Fritz is yet another native proving that you can get there from here. Two blogs she started have led, literally, to a million hits in one case, and to a book project and paid writing gig with the online magazine MTVStyle.
Much of this has transpired in a matter of  weeks after a couple of her blog entries were picked up by larger venues and went viral. The New York Times on June 10 called Ms. Fritz's "Ladypockets" blog "very funny."
Ms. Fritz,  28, quite suddenly finds herself taking the blogosphere by wildfire. Yet she started the two blogs, with no intention of — well, anything.
"Yeah, it's weird," she says. "It's a little surreal."
The former Youtheatre actress has been cobbling together a freelance career as a costume designer in Philadelphia.
"About a year ago, last May, I started this thing called 'I Am Begging My Mother Not To Read This Blog.' It was just an impulse, some stupid story I wanted to tell that didn't fit on Facebook, just to share with friends. I wasn't thinking anything. I hadn't written anything since college."
She says, "The first story was about how  I have a friend who cuts my hair. I wanted to go blonde for the summer. Now, A: I just shouldn't do it. And B: I tend to pay her with food and drinks.
"I made a pitcher of margaritas and I got nervous and drank too much and by the time the job was done, my hair was traffic cone orange. I woke up with a tremendous hangover and bright orange hair. It's really not something you want to tell your mom."
Ms. Fritz's parents Howard Fritz and Mary Kay Ilowiecki still live in Queensbury.
A couple of months later, Ms. Fritz wrote an  indignant response to what she calls "all those Internet stories about the top 15 ways to find your inner peace, always with some beautiful woman prancing on a mountaintop."
She laughs, "It's not even me, but I must have used the F-word 30 times. That's the one that went viral. I really am begging my mother not to read it."
Within a month, her blog went from 200 viewers to more than a million hits, she marvels. "It's exciting, but also a little terrifying. Do I tell my mom I did this thing?"
The "switch side," she says, "is, all of a sudden I have this platform I hadn't anticipated. I can write goofy and stupid, but also something totally feminist and people will hang with me for that."
Recent topics: A long-form response to the Santa Barbara shootings, a riff on bachelorette parties that takes a turn toward feminist commentary, and a blog about her MTV job interview that includes a self-deprecating take on our Chronicle chat. Be warned: She's funny, straightforward, smart — and very raw.
From the blog, she was approached by a Beth Phelan of the Bent Agency in New York City, who offered to help shape a book proposal.
She laughs: "It's not going so well. I'm finding it difficult to suss out what it wants to be. The writing in the blog goes in so many directions. It's hard to adhere to one point of view. I have a folder on my computer that's just called 'Book.' It's the worst thing I could possibly do, to get up and say, 'We're going to be brilliant today.'"
Instead, procrastinating and "as a weird joke for myself," she launched "Ladypockets" — a blog that MTV calls a mashup of  Instyle Magazine and C-Span.
The entries are short, Photoshopped layouts mimicking fashion spreads but featuring women of intellectual heft: Ruth Bader Ginsberg, Joan Didion, Hillary Clinton. Ironically, MTV calls Ladypockets "brilliant."
"Who wore it best?," Ms. Fritz asks, picturing Didion and fellow novelist Harper Lee in large-rimmed tortoiseshell eyeglasses.
A new spread, titled "Fashion Forward/Christine Lagarde" profiles the first female head of the International Monetary Fund, through the lens of Mme. Lagarde's signature silk scarves.
"Frankly, if we had to deliver some less-than-sunny news about eurozone inflation rates at the World Economic Forum, we'd opt to spread a little springtime cheer with this rose-print floral scarf too," she opines, in gushing magazine-speak and fancy fonts.
She tells The Chronicle, "My point is, the way we discuss women's bodies and clothing choices rather than elevate their accomplishments, it's really frustrating" — even as someone who pays her bills through costume design, she adds. "What set me off was at the Academy Awards, the comments on the Jennifer Lawrence dress," in which she was compared to a tampon. "She's 22 and the highest grossing female star, she has an Academy Award, and she was really good in American Hustle. Why is it okay we talk about this dress versus what she has achieved at such a young age?"
Someone sent the Ladypockets link via Twitter to feminist writer Ann Friedman, who reposted it. Huffington Post picked it up two days later, "and it snowballed from there."
That was three weeks ago.
Last week, Ladypockets was mentioned, with a live link, in a New York Times story about power-women as role models and fashion icons.
After MTV interviewed Ms. Fritz, they offered her a weekly paying gig, writing about pop culture and feminism.  Her first entry looks to be an interview with the costume designer for a hugely popular online TV show, she says.
Growing up, Ms. Fritz was a notable talent on local stages. This reporter reminded her of an early Adirondack Children's Troupe show based on Shel Silverstein's A Light in the Attic, where, at 13, she sang "These Boots Were Made for Walking" in a mod flower-print mini and fashion-forward white go-go boots, appropriately.
"It's absolutely all connected," she says. She credits Kate Fowler, then a teacher, now principal of St. Mary's-St. Alphonsus Regional Catholic School here in Glens Falls, for putting The Complete Works of Dorothy Parker in her hands. "That changed everything."
While going to college at Holy Cross in Worcester, Mass., Ms. Fritz says, "I had the great revelation that I didn't want to be a performer anymore."
At the same time, she discovered, "I loved the idea of design." As the only theater student specializing in costume design, she costumed "all the student theater productions and films, and I was costume shop manager."
After graduating in 2008 with a dual major in Theater and English, she received one of six internships with the Arden Theater Company in Philadelphia. They had her do everything but costume design, "to see if that's what you really love."
Turns out, she laughs, "I am a really terrible spotlight operator" — and she's not so fond of power tools or "hanging lights from great heights," either.
She stayed in Philadelphia, piecing a freelance career that includes teaching in a theater program for Autistic children and at a summer theater camp, but mostly costume designing for several theaters there.
"In the last four or five years, I've been paying my bills almost entirely by costume design and teaching," Ms. Fritz says.
That may change.
•
Find Katherine Fritz online by searching for "I'm Begging My Mother Not to Read This Blog," — which is truly raw, be warned — at the very funny and milder Ladypockets.com, and on Style.MTV.com.