By Patrick Daley, Chronicle Staff Writer
Editor's note: Chronicle staffer Patrick Daley spends many a weekend playing keyboards with the Queensbury-bred rock group Wild Adriatic — singer-guitarist Travis Gray, bassist Rich Derbyshire and drummer Mateo Vosganian. Here, Patrick chronicles their travels.
•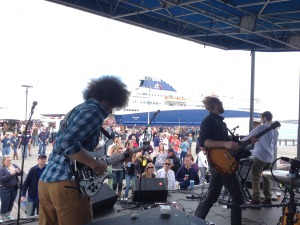 It was a tale of two gigs this past weekend with Wild Adriatic.
First stop: The Bull & Bear Pub in Syracuse.
You just never know what a gig is going to be like until you play it.
We set out after work on Friday for Syracuse, a city we've not played very often, but are working to develop a fan base in.
That can mean starting small. If even one person is impressed enough to buy your album or share your music, it's a success. So went The Bull & Bear.
Smaller crowd, but receptive as ever. No matter the size of the audience, we always play our best. Rock and roll pride.
It was also one of those gigs where you have to deal with what you're given. We did the sound ourselves (without monitors we thought we had requested).
The stage was snug. We just fit.
We brought our friend Maggie Goble, who went to nearby Oswego State University, to open the show. She played well and got some Syracuse friends to come check us out. It's always nice to have another performer to break up the night, especially when she's a good friend.
We finished playing around 12:30 a.m., and hightailed it to the hotel: We had to be in Portland, Maine, at 1:30 p.m. the next day to play a food, beer and music festival.
Next stop, Portland
Seven a.m. rolled in quickly, but I think we were all happy to get those five hours of decent sleep, rather than driving through the night and risking fatigued navigation.
We arrived a little later than we had hoped, but with plenty of time before we were scheduled to play our set at the Street Eats & Beats Festival.
Thanks to drummer Mateo for taking the early driving shift.
Portland's show was very different from Syracuse — A big stage with professional sound, a few thousand people strolling the food trucks and beer tents along the city's port area on the Atlantic. A mammoth cruise ship provided the backdrop as we looked out on the crowd.
Wild Adriatic has a better following in Portland, where they played a jam-packed New Year's Eve this year with Maine's rock-funk-jazz favorites Rustic Overtones.
A rock offshoot of that group, Paranoid Social Club, had played earlier in the day. Portland rockabilly veterans King Memphis got the crowd dancing before we took the stage at 3 p.m.
Plenty of festival-goers were still hanging out, some of them maybe a few beers deep.
There were definitely some inebriated women screaming at us. You know, that's always funny to figure out: Is it the music, the alcohol or our band's stunning good looks?
It took a little while for me to get settled, and Travis echoed my sentiments after the set. Playing outside can be tricky. I went from being sweaty in the sun to shivering in the wind. After a few songs, though, at least my fingers were warm.
Oh, yeah, and your hair gets messed up playing outside.
In all honesty, it's always about the music, and we delivered. As I said, we give it our best every gig. People are constantly remarking on our group's energy, and they did again in Portland. When you're playing good music in front of people (and for money!), it's easy to get excited.
We bid Portland farewell around 6 p.m. and stopped for food at a highway rest area. The sign on the building's front window: "Live Maine Lobster for Sale."
We opted for burgers.
Back on the road, Mateo, tour manager Jake Schmiel and myself zonked right out. Thank you, Travis, for getting us all the way to Central Massachusetts after two long days, and to Richie for taking the homestretch.
Can't wait to be back in Portland on June 8 for their Old Port Fest, including a show with New York city rockers The London Souls — a group that I first got into on the recommendation of a friend a few years ago. Crazy to think I'll be sharing the stage with them.
If I could only have told 8-year-old me to stop complaining about having to practice piano.