By Gordon Woodworth, Chronicle News Editor
New Way Lunch, the 99-year-old Glens Falls icon known for its "Dirty John's" hot dogs, now has its own brand of hot dog made exclusively for them in Troy.
"Our new hot dogs are fresher, never frozen, made weekly and better for you," said Nick Gazetos, a fourth generation restaurant family member who oversees the New Way Lunch on South Street.
"There is no high fructose corn syrup, no artificial sweeteners, no fillers, and less preservatives."

Nick's sister Ali Gazetos Mineo manages the Queensbury New Way Lunch on Upper Glen Street. Their mother Susan runs New Way Lunch's third restaurant, in Warrensburg.
Husband/father Peter Gazetos, whose grandfather John Floro started New Way Lunch in Glens Falls in 1919, weighs in on the whole operation.
Peter says the new hot dogs "are very similar to the ones we served back in the 1960s from Pleasant Valley in Schenectady. We've changed hot dogs three times in the 50 years I've been involved."
He said of the newest change: "We were having issues with our previous supplier, which we had for close to 30 years.
"The product wasn't fresh enough, and it wasn't to our standards. We had to do something. The inconsistency of the product forced us to look elsewhere."
The family selected as their new purveyor Old World Provisions in Troy, which was already supplying the corned beef for the hash the Gazetoses serve in Warrensburg.
"It's an exclusive New Way Lunch product made just for us," said Susan.
Peter said, "Old World already makes hot dogs for other restaurants in the Capital District, and they said they could make hot dogs acceptable to us."
Perfecting the new dog was a step by step process. "The first run wasn't as mild, and a little snappy as far as the casing," said Peter.
He acknowledges that some customers, in person and on New Way Lunch's Facebook page, "expressed some concern, and we immediately went back to them [Old World] and told them we needed the hot dogs to be more mild with a less snappy casing."
Susan says, "When I called Old World with our concerns, they made changes immediately and were very responsive. They have been awesome to work with."
"Since we made the changes, there have been no complaints," said Nick.
Susan says, "It's exciting because no one else can buy these hot dogs."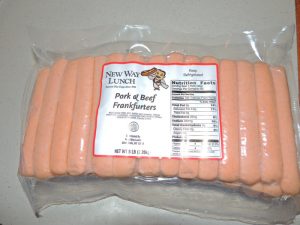 She said, "We thank our loyal customers for being patient with us during this transition. We have made some adjustments, and now we've got a consistent hot dog that our customers expect and deserve.
"We've done a good job maintaining our product over 99 years. This is not something we wanted to do, but something we had to do."
New Way Lunch will celebrate its 100th year in 2019 and plans a block party on South Street in August.
Copyright © 2018 Lone Oak Publishing Co., Inc. All Rights Reserved.