By Gordon Woodworth, Chronicle News Editor
On Jan. 1, Ivan Flores purchased Hiland Park Country Club in Queensbury from his father, Rafael. In April he opened a modest new restaurant called The Heron at Hiland.
"I've been in the family business since I was 10," Mr. Flores, 30, told The Chronicle.
"I took over the business officially on January 1st, and the new restaurant has been our focus ever since."
He said they're serving 30 meals on a typical Saturday night. "We are limited by our kitchen, which is very small," he said. "We're trying to keep it simple. I like comfort food. I'm a simple guy myself. I don't want to run an upscale restaurant. That's not my nature.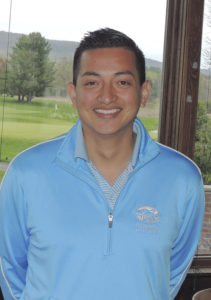 "With the growth of this area, we feel we have a natural crowd to draw from, and it's the only thing on this end of town.
"We've sent flyers to Waverly Place and the Glen at Hiland, and will have happy hour from 4 to 6 p.m. on weekdays, which we hope will attract staff and employees from SUNY Adirondack."
Mr. Flores said in the winter months, "we will probably just be open on weekends, but we are opening the course up again for cross-country skiing and snowshoeing. We did that years ago, and we're going to do it again. There are some beautiful views in the back."
He said the banquet business is "tremendous. We do 45 weddings a year, and overall 70 to 80 events each year.
"Last weekend we had 200-plus here for the North Country Ministry gala on Friday night, another 110 people here Saturday night for the NAACP gala, and a bridal shower on Sunday.
"This weekend we have Law Day on Friday, 211 kids for the Hudson Falls prom on Saturday, and a baby shower on Sunday."
As for the restaurant, The Heron at Hiland seats 50 inside and 32 on the wraparound patio. It opened on April 7 and operates daily from 11 a.m. to 10 p.m.
"We have new TVs and we're figuring out our clientele, which is mostly seniors in for lunch, and golfers," Mr. Flores said.
He said there's a 20% discount on lunch for those 50 and older Monday through Thursday from 11 a.m. to 1 p.m.
He termed the menu "higher-end pub food, with specialty burgers, chicken sandwiches, wraps and salads." Dinner entrees include chicken parmesan ($17.95 for a full portion, $13.95 for a half-portion), roast turkey dinner with all of the trimmings ($15.95/$12.95) and salmon with vegetable couscous and sauteéd broccoli ($18.95).
Burgers are $9.95 to $12.95; wraps and sandwiches are $9.95 to $11.95.
"We buy all of our meat and poultry from Jacobs and Toney, all of our bread from Gambles and our vegetables from Glens Falls Produce," Mr. Flores said. "We're trying to keep it local."
He said the golf course was ranked #1 in New York State in 2016 by GolfAdvisor.com, based on customer reviews.
Copyright © 2017 Lone Oak Publishing Co., Inc. All Rights Reserved.