By Mark Frost, Chronicle Editor
Morgan & Co. hit the ground running when it opened last fall and it hasn't missed a beat since. Even the brutal winter that dictated indoor evenings for all but the hardiest seemed not to slow Morgan down.
Not only is it busy all the time, it's got buzz. At the Adirondack Theatre Festival Winter Benefit in January, when a gift certificate for Morgan & Co. came up for bid, there was audible excitement — and the certificate was for just $50!
It reminds me of the nearby Bistro Tallulah, in that it brought ambitiousness and city style, energy and flavor to Glens Falls, yet with a hometown understanding.
At Tallulah, Fort Ann native Shawn Whalen returned from working in New Orleans and infused the place with some Big Easy. He too was successful from day one.
At Morgan & Co., the chef-owners are Steve Butters, native of Norwood, Mass., south of Boston, and his wife Rebecca Newell-Butters, who worked restaurants in Boston, like her husband, but grew up in Glens Falls. When her father/city attorney Ron Newell and two partners bought the historic but deteriorating McEchron House from Glens Falls, Rebecca says she knew that they would do a restaurant here.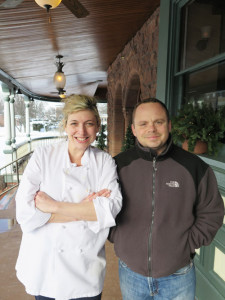 Steve Butters previously operated Butter Café and Bakery in Walpole Mass., and Rebecca worked various Boston area restaurants and won the Food Network's reality show Chopped in 2009.
What's clear is that they know what they're doing. Their menu is unique and distinctive but just as approachable.
Starters include a Moroccan Cigar (lamb spring rolls with homemade harissa, $10), Kale & Brussel Sprout Salad (also $10) and Candied Garlic Spare Ribs ($11).
"Mains" range from Grass Fed New York Strip steak ($32) and Blackened Swordfish ($22) to Texas Brisket Enchiladas ($23) and Slow Roasted Coq Au Vin ($23).
There are Prime Burgers, served with Frites & Coleslaw, starting at $12 and a Pulled Short Rib Grilled Cheese ($13).
The bar is busy and and runs until midnight. There are signature cocktails, craft beers on tap and a list of "Wines Buy The Glass" and "Buy The Bottle" that departs from the ordinary.
Both Rebecca and Steve like to work the room. Rebecca is warm and extremely friendly. Steve is more serious but clearly focused on the task at hand.
Beyond dinner, they serve brunch on Saturday and Sunday — and you wonder why more places don't give that a whirl.
They operate daily except Mondays, and they feature live music sometimes and local artwork on the walls for sale.
Morgan & Co. — named for the vintage lumber company in which Mr. McEchron and other Glens Falls pioneers made some of their fortune — seats 110 people plus 35 in the bar, Rebecca told me.
It can be loud, but it's definitely buzzy — even on a Tuesday.
But what they're doing so far is just a warm-up for what will happen when summer comes. The wide wrap-around front porch with the stonework wall and wainscoted ceiling will become an additional dining area seating 65, said Rebecca.
And they plan to install a separate bar at the porch's south end.
The grounds — directly across from City Park and diagonally from the Queensbury Hotel — are fabulous and present their own possibilities, though Rebecca says at this point she's just planning to put Adirondack chairs there for people to loll in.
One can easily envision tented special events out there.
A lodging owner who told us he made a practice of booking discerning guests into Tallulah for dinner says he's thrilled to have Morgan & Co. added to the list.
When the Adirondack Theatre Festival is in full swing come summer — benefiting all the restaurants downtown — you just know out-of-town visitors will be thrilled to have Morgan as an additional choice.
Yet, it in no way overlooks or disses the locals. Major successes are built upon this.
The success of Morgan & Co. confirms that Glens Falls literally hungers for more.
Cathy DeDe weighs in
Chronicle managing editor Cathy DeDe writes: We're not exactly steak-and-potatoes diners, but those options are on the Morgan & Co. menu. So are hamburgers, and pork chops. Recognizable offerings are still sometimes prepared in unique settings, with sides like vegetable ragouts or polenta rather than, say, straight mashed potatoes.
A light, late-night dinner typically costs two of us around $50. A full-out meal runs under $80 for two. We don't go for dessert; we do have drinks.
Some things that we like to order:
Paté — Chef Rebecca told us she makes hers with a mix of mostly duck and some chicken liver, steeped in cognac, with walnuts. It's dense, almost dry, rich with flavor. They serve it with a nice wedge of camembert, soft like a brie but a little less runny or sweet, plus some olives, mustard, toast and greens.
The Moroccan Cigars, another appetizer, are completely unusual for around here — rolled mini-tortillas, sort of, filled with lamb and topped with a Harissa chili sauce. A friend noticed the spice mix is reminiscent of that in New Way Lunch's meat sauce — yes! the Middle Eastern reference rings true. Morgan & Co's is maybe a little higher-end version, and the aroma doesn't quite stick to your shirt the way Dirty Dogs' does.
For dinner, my husband will often have the Candied Garlic Spare Ribs from the appetizer menu, with a side of roasted Brussels Sprouts. The ribs are pink and meaty inside, the barbecued outside thick and a little chewy, the glaze sweet, consistently tasty. They're plated with frozen grapes, which I mostly pilfer. The grapes add a nice cooling touch to the big rib flavor.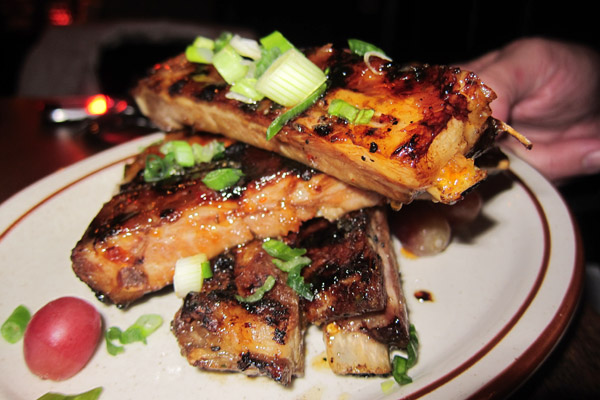 The Ginger Caesar Salad is a unique and winning take on that classic.
We liked a Lamb Bolognese dish that was on the menu last week — a dense mix of small shell pasta, tomato and ground lamb, nicely flavored. We've also had the Texas Brisket Enchiladas, served with an apple salsa, and liked the tender meat-and flour-tortilla mix.
I go mostly veggie, so the Inca Bowl is a natural. It's nothing like anything I've seen around here or even in big cities: A one-pot dish with many corners, served sometimes in a stainless pan, others in a bright copper pot. Dig in and pull out warm quinoa salad, a corn-and-bean posole (a tomato-y sauce), roasted squash with kale and cherry tomatoes in a rich sauce, grilled triangles of tempeh and tofu, and a wedge of avocado. You can get it with chicken, steak, shrimp or salmon, too.
Veggie stuff can be impossibly cheesy, fat-filled or effete. This sticks to the ribs, and it's interesting by the forkful, an adventure in a pot.
The Hummus Plate for Two (or more) is another adventure, with multiple mounds of flavorful offerings, from a shredded beet salad to red pepper and traditional hummus, baba ganoush (an eggplant dip). It's served with pita, olives and crunchy chick peas, fried I think. I requested some vegetables for dipping, too.
We do typically ask the chef to go light on the sauces and the oils. The kitchen is extremely accommodating — and I really do prefer those roasted Brussels sprouts and the Inca Bowl a little more on the dry side. It feels healthier, with no loss of flavor.
The kitchen stays open late — a bid to building audience, I'd warrant, mixed with that North Country ethic of making hay when there's sun, making customers happy when they're looking your way, simply being available. It works for my sometimes-crazy schedule and adds a nice option for real food after hockey games, for example.
Morgan & Co is also one of two local restaurants to introduce Sunday brunch this year. The other is The Towers, in the Travelers building. Anyone try either of those? Brunch is a "thing" in New York, D.C. and other cities — interesting to see if it catches on here in Glens Falls.
Copyright © 2015 Lone Oak Publishing Co., Inc. All Rights Reserved.