By Cathy DeDe, Chronicle Managing Editor
After an extended delay, Mint restaurant aims to open in early March in Peter Hoffman's redone Mailings Made Easy building on Warren Street in Glens Falls.
It's a project of Johanna von Geldern, who previously operated Sweet Beet Bistro on Main Street in Greenwich, and her daughters Cagney and Kate Houlihan of Saratoga.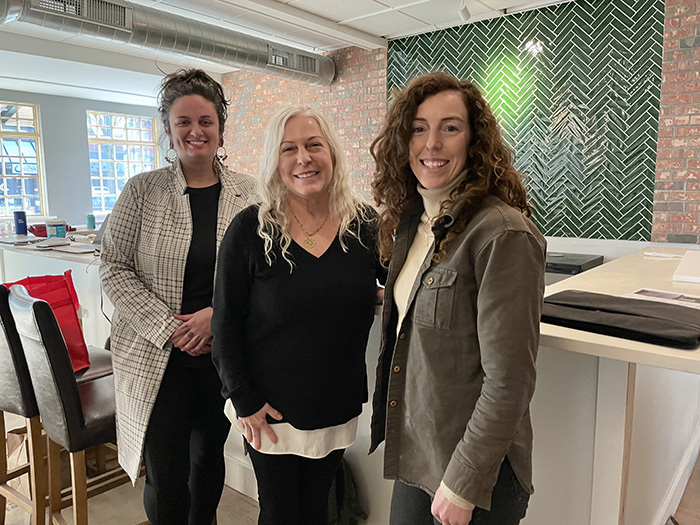 The chef is Jes Monroe, a North Creek native familiar in downtown as the former sous chef behind the Chef's Bar at [farmacy] restaurant on Ridge Street.
Mint had hoped to open in December but plans went awry over non-delivery of the restaurant's industrial hood — an expensive and critical piece of kitchen equipment necessary to pass City Fire Code and State Department of Health regulations, Ms. von Geldern explained.
Last Friday, finally, a crew was installing the hood.
Ms. von Geldern closed the 40-seat farm-to-table Sweet Beet in Greenwich in March 2020, when Covid struck.
She said Mint will continue Sweet Beet's focus on "organic and from-scratch, locally farmed ingredients. It's a vegetable heavy menu, but we embrace everyone in the community. It's very approachable."
They tout "tons of veggie, vegan, gluten-free options, and also locally raised meat and potatoes."
Also: "Unique" cocktails — that they dub "potions" — including non-alcoholic, low-alcohol "and full-on" options. The bar will be open late and have entertainment.
The menu, still in progress, lists appetizers like smoked carrots, cheese toast, spicy Thai beef sliders and a Monkfish roll; several charcuterie boards from veggie to full-beef; vegan and grass-fed burgers; tacos; four kinds of pasta including an arugula herb pesto and a vegan stuffed ravioli; and three kinds of gourmet pizza, including cheeseburger, and savory mushroom.
Price points are expected to range from $6 bar food to about $35 at the top end, said the chef Ms. Monroe.
Likely more for high-end offerings such as duck or steak, Ms. von Geldern adds.
She said, "I strongly believe that everything you put into the food, including how you are feeling when you make it, and where it came from, impacts the experience. We truly believe in the energy exchange. Jes, her temperament and energy, is what I want preparing food for our customers."
The staff of 15 is mostly women, front of house and in the kitchen, by happenstance, they said. Ms. von Geldern said she was overwhelmed with 300 job applicants.
General manager is Brandi Michal.
Ms. von Geldern describes the decor as "green velvet, gold, brick and white linen."
She said black leather banquette seating is repurposed from the state Capitol building in Albany, and that the wood and metal-base chairs are from a former neighborhood Italian restaurant in Albany called Sam's.
Seating is a mix of tables and long urban style banquettes along the wall, spaced in keeping with local comfort levels, Ms. von Geldern says. She's said she's inspired by the feel and the food of places like Hamlet and Ghost in Saratoga.
They plan 14 seats at the bar and a total of 40 in the bar area, another 40 in the dining room, plus 20 or 30 outside in the warm weather.
Folding doors where Mailings Made Easy had its garage door will open from the main dining room to the patio that is anchored by a signature wrought iron endpiece salvaged by Mr. Hoffman.
Other elements from Mr. Hoffman and his wife Susan include 10 vintage German square white glass light fixtures hanging from the ceiling, and a massive full-wall mirror in the dining room that came from Mr. Hoffman's childhood home, Ms. von Geldern notes.
"It's about creating community and a space where everyone feels welcome," Ms. von Geldern says, "even kiddos." Beyond the children's menu, she'll have a toy shelf, which she said proved popular at Sweet Beet.
Also like Sweet Beet, Mint will offer a "Community Supported Membership," similar to Community Supported Agriculture.
For $500 to $2,000, "you're pre-buying into the restaurant," Ms. von Geldern said, "pre-purchasing meals, and we're basically giving a 10 percent bonus on your house account," 10 percent off all purchases.
She said it's a way to raise capital, and that it also "creates a sense of family."
Mint received a $19,000 "DRIVE" grant from the City of Glens Falls, through its $10 million Downtown Revitalization Initiative.
"It comes as reimbursable funds," Ms. von Geldern says, "so long as we stay in business for five years. No problem, we hope. We signed an eight-year lease for the building."
Copyright © 2022 Lone Oak Publishing Co., Inc. All Rights Reserved