By Gordon Woodworth, Chronicle News Editor
The Friends of Camp Little Notch has raised $427,000 in three months and expects to buy the 443-acre former Girl Scout camp in West Fort Ann.
"I'm very confident we will hit our goaland then some," Friends of Camp Little Notch president Jo Lum told The Chronicle.
"We met with the Open Space Institute [OSI] on Monday, and they know where we stand. We are really hoping to exercise our lease-to-buy option and own the property outright in a couple of months."
The group has until Friday, Jan. 9, to buy the property from OSI.
The fund-raising campaign started on Oct. 1 and has raised more than $300,000 in 30 days. The campaign got a jolt on New Year's Eve with $100,000 in anonymous donations. Small fund-raisers on Crowd-rise have raised an additional $30,000.
The Friends are borrowing $500,000 from the Community Loan Fund of the Capital District. As of Tuesday morning, Jan. 6, they needed to raise an additional $16,000 to reach their fund-raising goal.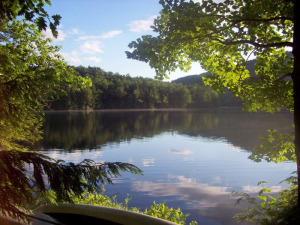 "We want to own the property outright as soon as possible," Ms. Lum said. "We want to put all of our energy and focus into programming. It feels like we have a really sustainable program model."
They plan a four-week summer program for girls in 2015, along with weekend camping programs. The Friends also hope to rent out the property for family reunions and weddings and other groups.
"We want people to use the property as much as possible," Ms. Lum said.
She said she's not surprised that the group of former campers and counselors are so close to their fund-raising goal.
"We have a dynamic and tenacious group that is in love with this property," she said. "They are doing it because they love the property and believe in this program. We are overwhelmingly grateful to have such a beautiful and generous community collectively contributing to make our dream tangible."
In January 2012 the Friends signed a lease-purchase with OSI. They tried to extend the lease, but said OSI "made it clear their priority is the rapid sale of the land, and an extension is unlikely."
Info: www.friendsofcln.org.
Copyright © 2014 Lone Oak Publishing Co., Inc. All Rights Reserved.