By Cathy DeDe, Chronicle Managing Editor
The American Music Festival retains its position as the likely high-water mark for successful events at the Festival Commons at the Charles R. Wood Park in Lake George — but on a slightly weird foundation this year.
Last year's event, also produced by locals Robert Millis of Saratoga and Dave Ehman of Lake George, was the site's first real success story.
This year, they scored a true coup: One of few appearances here by Capital Region success story Sawyer Fredericks, the soulful young guitarist-songwriter-singer, he of the bowler hat and long blonde hair, winner of Season 8 of The Voice, TV's music contest.
Sawyer drew a massive crowd of between 2,100 and 2,300 people, Mr. Millis tells The Chronicle, for his Saturday evening gig. Many came early enough to catch the lead-in acts as well — but most left almost immediately after young Sawyer was done on stage.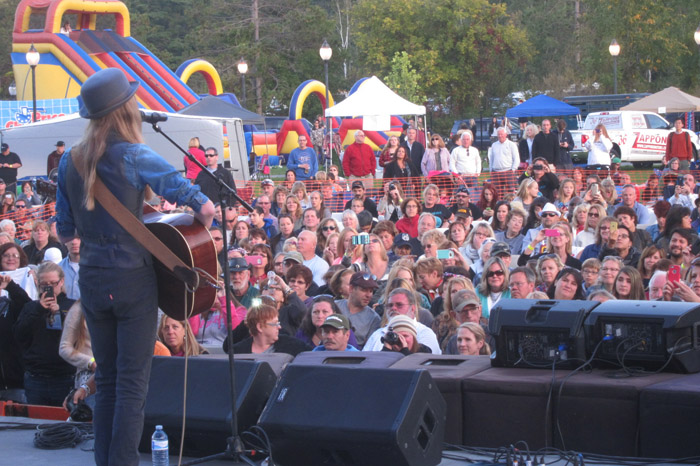 Well, except for the 300 who had paid to stand in line and get autographed CDs and pictures with the young phenom.
That had to be a little galling to the next act up, stellar reggae-rock group Crucial Fiya, who played to a significantly emptied lawn and a sea of empty VIP chairs previously held by members of "Team Sawyer."
It didn't help that by the time Sawyer got off stage just before 8 p.m., the night had turned painfully cold. After a long day of enjoying the Festival's musical offerings, even this motivated music lover left.
I pity Saturday's closing act Kung Fu, the indie-funk group, highly regarded on the festival circuit, but not well known here. My guess is they played under freezing cold conditions to nearly nobody.
Mr. Millis estimated that 300 people attended his "Country" day on Sunday.
There, the big draw was longstanding newgrass-bluegrass group Donna The Buffalo. They played about mid-afternoon and had a lively crowd of loudly appreciate audience members up and dancing for much of their show. I'm a new convert, now.
Again, however, when they were done, a significant number of folks just left.
The two remaining acts were more purely country, "Outlaw" Southerners Sundy Best (that's not a misspelling) and headliner-hearthrob Austin Webb.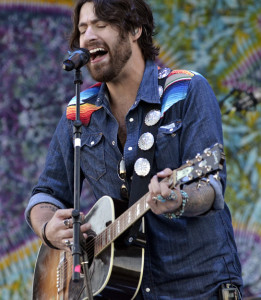 Both put on seriously impressive rocking country shows, despite dwindled crowds.
I'd guess Mr. Webb had fewer than 100 in the audience.
Mr. Millis says the Festival again turned a profit. "Everything after yesterday is gravy" he said on Sunday. But you still don't want such a sparse house. He said maybe they'd priced tickets too high for that day.
The total number of attendees was about the same this year as last.
He'd raised ticket prices from last year, so revenue was up, he said.
The "plus," Mr. Millis asserts: "We 'delivered,' which we always do. We put A-List entertainment in front of people that aren't used to seeing such."
I'm not sure I'll buy that last caveat — we have a lot of good music here. It is the case that the Festival lineup both days was a fun, intriguing and to my ear a satisfying blend of unfamiliar music, tipping around the edges of alt- and indie, with solid pop anchors and significantly good musicians.
The Sawyer Fredericks draw benefited the acts that came before him. I'm glad so many people got to hear equally talented and equally young blues guitar phenom Quinn Sullivan. I spoke with Quinn briefly backstage and he's a good kid, besides.
But it can't be good for a promoter to have at least three of your major headlining acts play to notably sparse crowds.
Word must get around to managers and musicians.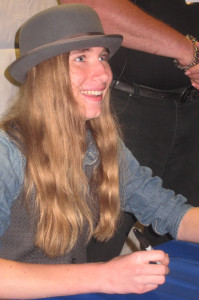 My friend Kate Austin-Avon calls this "eating the cheese" — when nobody shows up for your art opening and you wind up downing the refreshments yourself. It's an awkward spot for any artist or promoter.
We don't want it happening on our watch.
I didn't see how Crucia Fiya or Kung Fu handled the disappointment. Mr. Webb was a trouper, giving it his all and encouraging the audience to do the same.
"Let's fill this place with noise like it's an arena show," he said. "Put your hands together. Get up and dance, or don't. We're going to have a good time!"
He's the one I predict you'll be sorry you missed. He's got legit big-time country chops at just 26 years old. He's good-looking, well decked out in tattoos and turquoise, blue jeans and denim shirt, a twang in his voice but no cowboy hat.
He's sincere when he talks about his songwriting and storytelling. He has a rich voice, plays a mean harmonica, cross-references the Rolling Stones, and packs it all up with massive stage presence.
His two Top 40 hits are the soulful "Slip on By" and the hilarious "All Country on You." Look it up on YouTube — it's sexist but clever.
The Sawyer Fredericks was huge — not just for the size and enthusiasm of the crowd, but — a real breakthrough moment. The kid really does have "the voice."
Mr. Millis says he's decided this is "a very mainstream" market, especially when it comes to Country. He said it's tough in that world to find a mid-level act that will draw a crowd — unless admission is free.
Personally, I had a blast on Saturday with the 1980s MTV sensation and Albany-based comic-rockers Blotto.
They're former young smart-alecks, now grown up, still good writers of irreverent offbeat songs with irresistible musical hooks.
Brooklyn-based Big Mean Sound Machine blended indie rock and jazz, more interesting stuff.
Sunday, Donna the Buffalo was exactly my cup of tea. Driftwood, an alt-country quartet from Buffalo, I'd go see again anytime, too.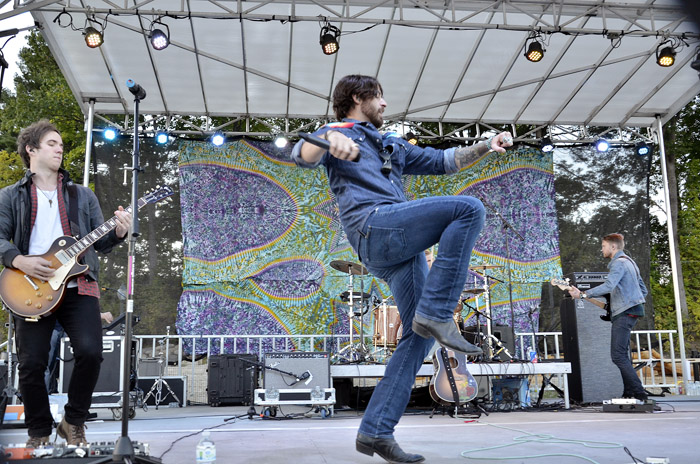 Copyright © 2015 Lone Oak Publishing Co., Inc. All Rights Reserved.