Chronicle Managing Editor Cathy DeDe writes: LARAC's Fall Arts Festival is Saturday and Sunday, November 4 and 5, at The Adirondack Sports Complex, "the Dome" on Sherman Avenue in Queensbury. Hours are 10 a.m. to 5 p.m. Saturday and 10 a.m. to 4 p.m. Sunday. Admission: $5, good for both days. Kids under 12 are free.
We asked LARAC festival coordinator Phil Casabona and director Candice Frye about the event.
How many artists?
We have juried in 62 artists to participate this year, including 21 new artists who we are proud to include. These artists span categories including food, jewelry, soap products, wood working, photography, fabric arts, fine arts, painting and more.
Is this like the June Fest?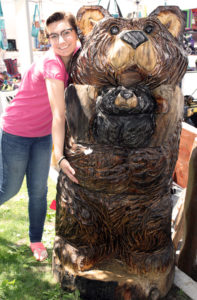 How does this compare to the June Arts Festival, which is so popular it is commonly known simply as "LARAC?"
This year will be our 34th Annual Fall Festival and compares to June on many levels. Again it is a wonderfully juried show with amazing artisans and really captures what LARAC is all about, like June, really thrives do to this wonderful community.
What's the music?
Music is by Mark Rabin and the Lovely Missus, Sean Pettis, Cosby Gibson and Brian Chevalier on Saturday — and Donna Britton, Kim Skoll, John & Amy and Vincent Seeger on Sunday.
Also this year, we have a fun family activity area with games from Rent'em Games: Volleypong, Giant Jenga, Lawn Yahtzee, and more! Rent'em Games is a local business owned by three siblings. The oldest is in 9th Grade.
Presenters to highlight?
All our artists are talented and amazing. It is a pleasure that they chose to support LARAC and participate in our Festivals.
These festivals help us to survive as a non-profit all year long, and it is exciting to see some of them year after year supporting us and being supported by this community.
Its amazing to have repeat artists like Cate Mandigo (folk paintings), Eric Melito of One on 1 Designs (hand screened clothing ) and Heidi Cobb of Escape Artist Designs (jewelry ) support our cause.
It's just as amazing to welcome new artists who we think will really mesh with our community.
Copyright © 2017 Lone Oak Publishing Co., Inc. All Rights Reserved.