By Zander Frost, Chronicle Staff Writer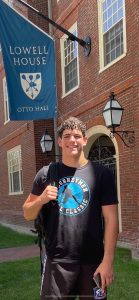 Lake George's Logan Marissal has wrestled his way into Harvard University.
The 6'2", 260-pound, 19-year-old will wrestle in the Ivy League starting this season.
"It's definitely a crazy feeling for me," Logan said. "I'm more grateful than anything. Because it was really a lot of luck. Like being in the right place at the right time."
Logan at Harvard wasn't an accident, though it took a post-grad year at a Massachusetts prep school to take him there.
"I was always a pretty good student in school," said Logan, who graduated from Lake George High in 2022 with a 4.0 GPA. "And I always wanted to go to a great institution.
"I wanted to use wrestling to try and help me get into a real-ly good school, because some of these schools are just so hard to get into.
"Like Harvard, you could be the top of your class with perfect scores and extracurriculars and what not, you could still not get in. I was going to try and use wrestling as a vessel for me to get in."

Logan, whose parents are Chris Marissal and Christina Palmer, said he's the first in his immediate family to go to college.
Logan says he started his unorthodox journey in seventh grade at Lake George, "fairly late compared to most Division I wrestlers."
He was mostly a football player — running back and linebacker. He started wrestling on a whim, looking to add a second sport. He fell in love with it.
When a bad finger injury cost him a month of football season and "most of wrestling season…it was a wake up call," says Logan. "That was the sport that I really enjoy."
What's to love about wrestling?
"I've always been a pretty competitive guy. So to be in a solo sport — I control if I win or lose, that type of feeling to me was the best," he said.
Plus, the "creativity," he said. "In a wrestling match, you can win a variety of ways, you can have a variety of styles."
Along with injuries, Logan lost his junior year to Covid, robbing him of the year colleges do most of their scouting.
Logan graduated from Lake George High in 2022 and had already been accepted at colleges, but his father Chris says Logan's coach at Journeyman wrestling in Malta asked if he would consider doing a post-grad year.
Logan received an offer from Northfield Mount Hermon prep school in Massachusetts.
"Honestly, financially we weren't prepared," says Chris, Logan's father. "We put some money aside for college…But this preparatory school was literally $72,000 for the year."

"I told them, 'Hey, listen, we so appreciate the offer. It's unbelievable…we just don't have that kind of money. We're just regular people.'"
He says, "They came back with an offer for us. Basically, if we could pay $5,000, they would take him. And I wrote a check for $5,000 that basically barely covered his food costs for the year at that school. And they paid for everything else."
The decision turned out to be a great one. Chris and Logan said the school invested time and energy in Logan, also helping him fill out his frame.
Chris said, "I told my son, who's going to invest $67,000 in you? Who do you know that's going to invest that kind of money in you today? We owe the school literally forever. And it did open that door to Harvard."
But not immediately.
Logan said, "I emailed like 18 or 19 schools. Every single one of them responded to me — except Harvard."
"I was heartbroken because I went to a training camp over the summer at Harvard, I talked to the coach, I loved the area," he said.
So Logan's prep school coach sent Harvard Coach Jay Weiss a text.
"The next day, I got on the phone call with them" and was invited for a visit.
Chris said Harvard was the only school Logan spoke to that asked him "what else he would bring to the school" besides wrestling, if he suffered a bad injury.
Logan said his answer was: "I have an outgoing personality. And I like to be involved…So if I go out there, and my wrestling career ends right away, I'd still want to be involved in a bunch of clubs, or try and change the community, or give back in a way to the team because they believed in me to come into their program."
Logan said, "I FaceTimed my parents when I opened up my acceptance letter."
"I haven't cried too much in my life, especially in recent times, and I cried.
"That was a very emotional moment for me. Really everyone that supported me — my coach and everyone back home that's been backing me this whole time."
Logan said for a major, or concentration as it's called at Harvard, he's looking at "Economics, currently.
"I have thoughts about being a lawyer. And so law school, doing my research and speaking with the advisors, the second most accepted concentration…is economics into the [Harvard] Law School.
Copyright © 2023 Lone Oak Publishing Co., Inc. All Rights Reserved