By David Cederstrom, Chronicle Staff Writer
The Jefferson Project has taken its next major step — creation of a 2,000 square-foot Data Visualization Laboratory at the Darrin Fresh Water Institute in Bolton.
"Things no human has seen before" will become visible there, IBM senior vice-president Dr. John E. Kelly III said at the project's public unveiling on Oct. 17.
The lab "may seem like a modest building, but there are two enormous supercomputers" inside, explained Dr. Kelly, IBM executive, alumnus and trustee of Rensselaer Polytechnic Institute, part-time resident of Lake George and a driving force in the Jefferson Project, which aims to create unprecedented understanding to help "preserve Lake George for future generations."
"Massive amounts of data" from sensors in and around the lake will be studied by Jefferson Project partners RPI, IBM and the Fund for Lake George, said Dr. Kelly.
"This is bigger than Lake George," he added. The goal, he said, is technology applicable "around the world" to save freshwater resources.
The lab is now named the Helen-Jo and John E. Kelly III '78 Data Visualization Laboratory, recognizing the Kellys' "major gift" for an endowed RPI fund to support research at the lab, announced RPI president Shirley Ann Jackson.
The Jefferson Project uses as its starting point lake monitoring done by the Fund for Lake George over the last 30 years.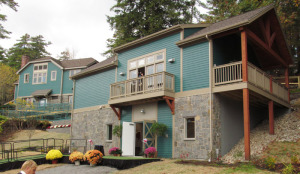 "This is the next major milestone" for Lake George, said Fund executive director Eric Siy. Beyond research, the goal is "the conversion of the knowledge into solutions that protect the lake. That's what matters to us….This is going to equip us as never before" to find long-term solutions.
"We are only going to solve these systemic problems by working in collaboration, by working as partners across sectors to realize lasting protection," Mr. Siy said.
Rick Relyea — described as a "world-renowned aquatic ecologist" — has been named RPI's Jefferson Project director.

He was also appointed the David M. Darrin '40 Senior Endowed Chair in RPI's department of biological sciences. Dr. Relyea was previously a professor and director of an ecological research center at the University of Pittsburgh.
"I'm incredibly impressed by the passion that people have for Lake George…I share that passion," said Dr. Relyea, who added that he spent time on the lake as a teenager.
There are "incredibly complex systems" affecting the lake, and an equally complex food web, Dr. Relyea said. To meet the "daunting task" of understanding how they all interact, "we're going to monitor the lake…with highly sophisticated, computerized sensors. We're going to conduct experiments…and we're going to model the lake" based on the data that comes in."
Copyright © 2014 Lone Oak Publishing Co., Inc. All Rights Reserved.