By Mark Frost, Chronicle Editor
Electric boating is getting a big push this summer on Lake George.
In June, "the first marine fast charging station east of Michigan" — made by a firm called Aqua superPower — was installed at the Queen Boat Company at Dunham's Bay.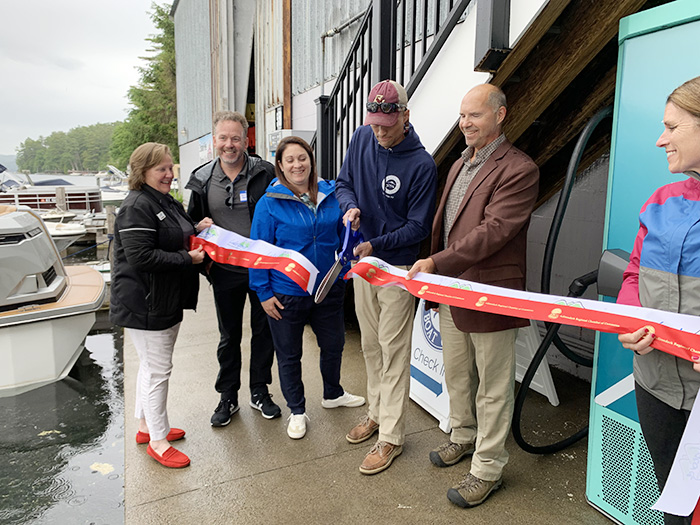 "What we're trying to do is instigate the movement away from internal combustion engines," Aqua SuperPower Vice-President Scott Canning told The Chronicle.
He said, "This is a level three supercharger designed specifically for marine or boat use to charge electric boats….
"And it's the new generation of electric boats, it's not small picnic cruisers. You can surf behind them, you can get up on plane, you can do 30 knots."
Mr. Canning acknowledged there's a hurdle to overcome in customer acceptance. "It's the same as in the auto sector," he said. "You've got people with range anxiety.
"So you can do that by either having a massive battery on your boat, which is going to make it very expensive. Or you have a smaller, more affordable battery, and you have a super charger that can charge it in 45 minutes to an hour, which would take somewhere between 15 and 18 hours on a normal shoreside power."
How long will an electric boat run on a charge?, we asked. "You'll get three to five hours of mixed use…if you're cruising it," Mr. Canning replied. "If you're going to really nurse the battery and do six knots, you might get 50 to 100 miles out of it.
"But if you're going to go out and do multi speed, go surfing, you'll get 25 to 30 miles…so three to five hours."
"We're not reinventing the wheel," Mr. Canning said. He said it is CCS, a "combined charging standard…the same way you could charge up an F-150 Lightning. It's the non-Tesla version, basically it's a universal standard for most electric vehicles that are not Tesla."
Mr. Canning said Aqua SuperPower's "business model is we build, own and operate the network."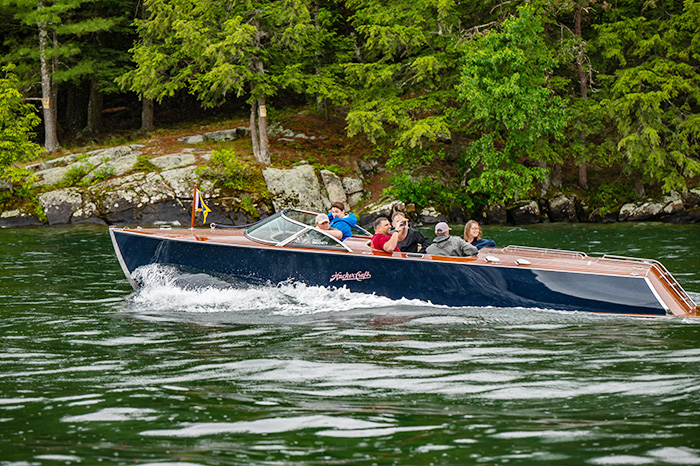 "So we put them in, we came to agreement with Queen Boat Company," he said, on a long-term 20 year contract.
"We'll put the charger in at no cost to the marinas and then we will pay for any electrical upgrades. And then we manage and maintain the charger for the duration of our contract. And we make our money by selling electricity to the end user."
"It's a chicken and an egg, cart and a horse thing," Mr. Canning said of electric boat growth. "You need the charging infrastructure in place in order for people to make that transition."
When people are deciding between gas and electric, "if there's a robust network of chargers around the lake, or the area they're boating in — [it] makes that decision easy."
He said initial use will be "limited," but "we're betting our entire business model on the fact that everything, ultimately, will go electric."
Mr. Canning said of Queen Boat Co. owner Matt O'Hara, "Matt's visionary in terms of he's already talking to other electric boat manufacturers. He's got outboards that are electric…"
"It's a very young industry," Mr. Canning said. "Doing infrastructure never goes quickly. You've got to get your power lines, drop down transformers, you're doing trenching, you're laying cables. It's a slow process, we're determined to move forward. But it's great. By the season end, at least, we'll have two chargers on the lake. And then I want more on the lake, too, so the whole lake is covered."
Mr. Canning said, "We're still in single digits in the U.S. in terms of deployment, but we've got multiple locations that are interested. It's going to take time to get contracts across the line, and then the installation and the deployment done."
He said the company has more chargers in France than any other country.
"That's where we started," said Mr. Canning. "So we've got a leg up there, because the very first charger went into Monaco" roughly four years ago.
Matt O'Hara: We sold 2 electric boats a year; 'last year we sold 20'
Matt O'Hara, who owns Queens Boat Company (the former Dunham's Bay Marina) on Lake George, said they've been selling Torqeedo smaller electric outboard motors for six years.

"First four years, we probably sold two a year and last year we sold 20," he said. "So it is starting to become a little more awareness. People are learning about it."
"Everyone's like, well, we want performance," Mr. O'Hara said. "You're starting to see the performance catch up, and the price gap — I mean, there's still a price gap — but it's starting to narrow a little bit."
Mr. O'Hara includes an electric boat among the fleet available to members of the Freedom Boat Club franchise he operates from the Queen Boat Co.
"There's really a diverse range of boating opportunities with electric now, which is just going to increase the need for charging," he said.
Aqua superPower has installed at Queen Boat Company what it says is "the first fast charging station east of Michigan." Another will shortly be installed at Hacker-Craft's facility in Silver Bay in the lake's northwest.
Hacker-Craft adds electric 'Aquavant'
Hacker-Craft, the classic wooden boat builder now headquartered on Corinth Road in Queensbury, has ventured into electric-powered models.

"We partnered with Ingenity, the electric powertrain company, just at the right time. And we were able to launch our first electric boat at the Fort Lauderdale Boat Show last year," said Erin Badcock, Chief Operating Officer. She said the "Aquavant by Hacker-Craft" drew much interest there and has continued to everywhere since.
At the Queen Boat Company event announcing its new fast-charging Aqua superPower charger, Hacker-Craft offered cruises on its Aquavant that's priced at $695,000.
Ms. Badcock said they are also installing an Aqua superPower fast charger at their Morgan Marine location at Silver Bay on Lake George.
"Building an electric charging network is a necessary factor to the growth of the electric boating market," Ms Badcock was quoted in press info.
"With Queen Boat Co's new Aqua charger installation and the upcoming installation at Morgan Marine LG, we are confident Lake George will become a leading market in the electric boating industry with reliable charging stations for electric boat owners."
Copyright © 2023 Lone Oak Publishing Co., Inc. All Rights Reserved