By Cathy DeDe, Chronicle Managing Editor
We're on a high! Glens Falls and Queensbury High Schools took home Best Musical awards in two of the three "tiers" at the Capital Region High School Musical Theatre Awards last Saturday night at Proctors Theater in Schenectady.
Glens Falls won for The 25th Annual Putnam County Spelling Bee, and Queensbury for Shrek the Musical.
We of the North Country might once have imagined ourselves at a disadvantage in the company of Tri-City and tony suburban schools down Albany-way. But we've learned otherwise: From its start and regularly over its now-seven years, the Proctors showcase has honored and awarded our local individual students and musical theater programs.
"It's called the High School Musical Theater Awards, not competition," noted Proctors Collaborative CEO Phillip Morris from the stage.
I would add, it is about the recognition — when you and yours know you've done something fabulous, what a pleasure it is to be seen for that, and what a gift for the nominated schools and actors to have an unexpected opportunity to extend beyond closing night.
This is, maybe most fabulously, another chance to strut their stuff on a majestic and historic stage, to a wildly appreciative audience — including the like-minded, maybe even oddball fellow theater kids from all 22 schools. They spend rehearsals, working and bonding together in advance of the show.
Nine schools, including Glens Falls, Queensbury, South Glens Falls with Tuck Everlasting, Schuylerville with Once Upon a Mattress, Saratoga Springs with Mama Mia!, got to showcase a number from their "Best Musical" nominees. I fell in love with every one.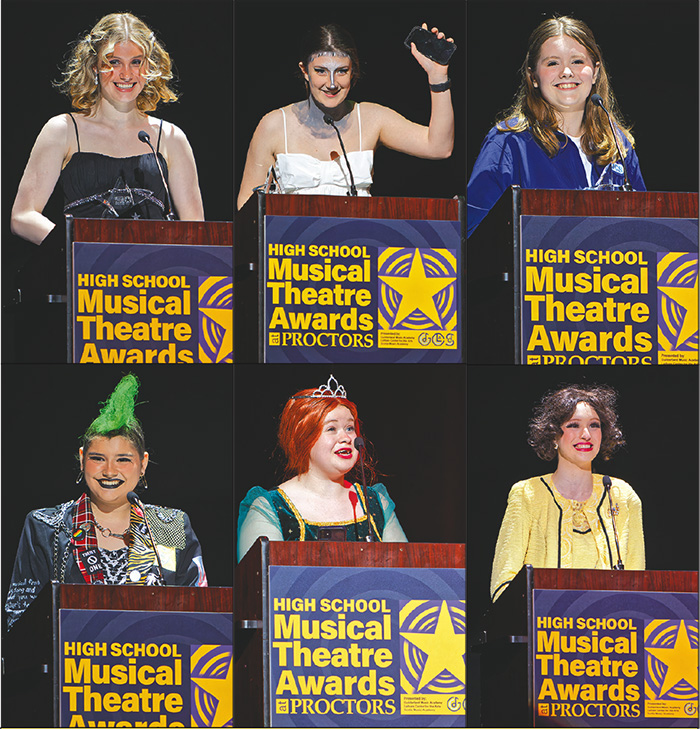 "It's about celebrating these fabulous students," Mr. Morris said. And truly, it is a beginning-to-end night of ear-to-ear smiles.
Ten best actor nominees, including Carter Sano of Queensbury and young Eva Reese of South Glens Falls, were featured in compilation performances of excerpts from their signature roles.
The Best Actor and Best Actress — this year from Scotia-Glenville and Voorheesville (my alma mater!) — will continue their journey at the Jimmy Awards in New York City next month, alongside the winners of sister events in 47 other regions around the country.
I was sorry our superlative actor nominees — Carter, Eva, and Carter's sister Delaney Sano as a Best Supporting Actress — didn't come home with the gold.
Not always getting the gig, good as you are, is one of the tough sides of theater. Other doors will open for the talented nominees whose names weren't called, on this or some other path.
Accepting the awards…
I was glad to see Glens Falls win for Best Ensemble as well as Best Musical, the show was a no-stars team effort. A Glens Falls parent told me later she was pleased their third trophy was for Technical Execution, as that's a real focus of director Avery Babson.
Accepting that award, student Ava LaVine extended thanks to the school janitors, especially for picking up the confetti they dropped from the ceiling into the auditorium at each show. She wasn't the only student to acknowledge the top-to-bottom teamwork required to put on a performance.
Also perfect, that Queensbury won for Best Choreography: Senior Kendra Jones was lead choreographer, stepping in for their regular grown-up choreographer Sara Terry, pregnant wife of director Andrew Terry. Accepting the award for her school, Kendra also congratulated Mr. and Mrs. Terry, whose second child was born just the week before.
Kendra thanked her grandfather for sitting through "my self-made productions in the basement" as a child, and she noted, "This is extremely encouraging and reassuring concerning my life goals." She's off to college next year, to study dance and choreography, her mom told me after the show.
You fall in love with them all, these golden youths in their glory moments — the students' teary or exuberant "thank you" speeches, the exhaustingly high energy, the group numbers, the joy.
Copyright © 2023 Lone Oak Publishing Co., Inc. All Rights Reserved