By Gordon Woodworth, Chronicle News Editor
The new Hudson Headwaters Health Network building under construction in Warrensburg will be called the John K. Rugge, MD, Health Center.
The announcement came as a surprise to Dr. Rugge, HHHN's founder and CEO, at a surprise 70th birthday party thrown for him Friday on the 9th floor of the Travelers Insurance building, at The Tower restaurant.
Dr. Rugge founded the Hudson Headwaters Health Network 40 years ago and still practices medicine there as well as being its CEO.
Tom Ross, who chairs the Hudson Headwaters' Finance Committee, said the board unanimously approved the health center's name in executive session on Sept. 30 after asking Dr. Rugge to leave the room.
For the surprise birthday party, Dr. Rugge and his wife Victoria Palermo were lured by their long-time friends Dr. James Morrissey and his wife Kay who said they were just going to dinner.
"I never knew Dr. Morrissey would be so deceitful," Dr. Rugge quipped Monday. "I guess several people figured he would be the best one to get us there."
Dr. Rugge and Ms. Palermo were presented a gift certificate to their favorite boutique hotel in Montreal, where they were spending the birthday weekend, and a painting-like photo of Dr. Rugge paddling his canoe on Tripp Lake, a favorite pastime and destination.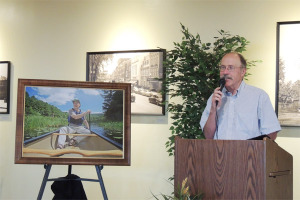 "That photo will look great in the center hall of the new building," said Dr. Dan Larson, one of several speakers.
And how does Dr. Rugge feel about the Warrensburg Health Center being named after him, after he resisted when the idea was floated earlier this year?
"That one gives me pause," he said. "I'm having trouble getting my head around that and making it feel right.
"I guess I have to understand that I am not the final say on that…Maybe we can put my name in very small letters down the corner behind the rose bush."
Hudson Headwaters said it treats 70,000 people annually, and employs more than 600 people, including 130 physicians, physician assistants and nurse practitioners at its health care centers in Warrensburg, Bolton Landing, Chestertown, Fort Edward, Glens Falls, Indian Lake, Moreau, Moriah, North Creek, Queensbury, Schroon Lake, Champlain and Ticonderoga.
Dr. Paul Bachman, one of three chief medical directors at Hudson Headwaters, spoke about being interviewed in 1985 at Potter's Diner in Warrensburg.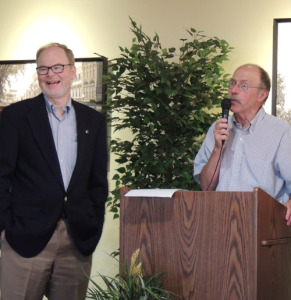 He likened Dr. Rugge to Jack from Jack and the Beanstalk. "There's Dr. Rugge nimbly running around, writing grants, always staying one step ahead of the Giant," he said.
Dr. Bachman said that when his late wife was sick, Dr. Rugge would come to their home and sit with her. After she passed, he came and sat with the family. "Thank you for that," said Dr. Bachman.
Dr. Larson read a speech patterned after the Gettysburg Address, which he jokingly called the "Ruggesburg Address."
Dr. Rugge, in brief remarks, thanked the crowd and reminded them that the new Warrensburg facility "is a health center, not a mausoleum."
As he walked to his seat, Dr. Morrissey said, "And we still owe you a dinner!"
Marti Burnley, Hudson Headwaters' vice president of human resources, organized the party along with Angela Petrone.
Asked to describe Dr. Rugge, Ms. Burnley said, "I have never seen him get rattled, ever. And he makes every single minute count. He's always right on top of things in a beautiful, serene way."
Dr. Rugge expressed gratitude to the Tower, where the party took place. They "were very, very generous to us, and they were very gracious. It was a class event, and we are most thankful to them."
Copyright © 2014 Lone Oak Publishing Co., Inc. All Rights Reserved.