By Zander Frost, Chronicle Staff Writer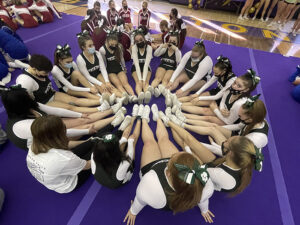 The Hudson Falls Varsity Cheerleading squad heads to Rochester Institute of Technology Saturday for the NYSPHAA Competitive Cheerleading Championships.
"I'm excited," third year Coach Trishia Ten Eyck, told The Chronicle. "This is the first competitive season ever of Hudson Falls…To make it to states is a huge accomplishment.
"It's like school history! The school's never been."
Coach Ten Eyck, who teaches physical education in the Hudson Falls Middle School, said up until this year the team did "sideline cheering at basketball games and football games. This year was our first year to be competing at competitions against other cheerleading teams in the area."
In five competitions, they placed third once, second three times, and won in Scotia. Then they won sectionals in Troy.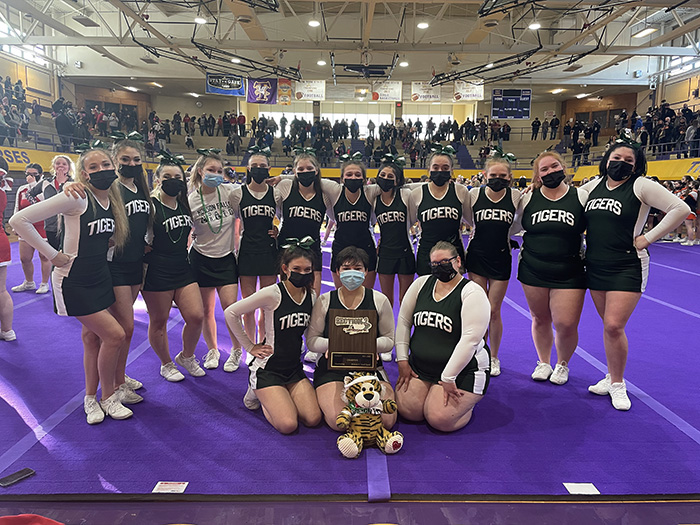 "It's been pretty amazing to have this kind of success in your first year, from feedback I've gotten from other coaches," Coach Ten Eyck said. "It definitely seems to be taking other programs quite a few years to get to this."
Last year, she said, Hudson Falls "didn't really get a season, nor did we get to compete. We got to practice a couple days a week. But because of COVID we were considered a high risk sport."
She said this team's strength is "overcoming adversity. And the obstacles of COVID have made it more challenging because of quarantines…My kids are very good at adjusting and being able to overcome obstacles."
She said two senior captains, Kenadie Russell and Kerrigan Lapointe, have been with her since she took over the program three years ago. "They were kind of in through it all…They definitely make sure the girls are in check — and that we're focusing on not only cheerleading, but our grades and our behavior."
She said the captains "were the driving force of it. I think there's a few girls who aren't with us any longer [they graduated before this success] that really wanted it to be competitive…Kenadie and Kerrigan were all for it. And I think they're in shock now," the coach laughed.
She hopes the success becomes "an annual thing." Hudson Falls doesn't have a JV or modified team, so she'd like to "grow into some feeder programs as well."
"I'm just hoping we can keep where we're at and just keep getting better and better," Coach Ten Eyck said.

Copyright © 2022 Lone Oak Publishing Co., Inc. All Rights Reserved