By Zander Frost, Chronicle Staff Writer

Hartford Supervisor Dana Haff alerted The Chronicle to Barbara Klaiber, his friend and classmate (Hartford Central School Class of 1978) who in 1998 with Jane Hyatt founded and operates an orphanage in Kyiv, Ukraine.
As of Monday, Ms. Klaiber reported that the she was situated in a bomb shelter with the children and staff of the orphanage. Tuesday morning Ms. Klaiber posted on Facebook, "just letting you know we are ok and still have cell service. Keep praying! It's not over yet, but it is already decided in the heaven-lies! We're on the winning side! Emmanuel!"
Co-founder Ms. Hyatt, who travelled to Atlanta for a pre-planned trip about a week prior to the invasion, told The Chronicle Monday. "They are in a bomb shelter, they're starting day four.
"All the children are with her…there's probably a group of quite a number of people…it's a safe place."
Ms. Hyatt and Ms. Klaiber are in touch.
Ms. Klaiber said the orphanage has a "strong team" of 30 Ukrainians, about six or seven of whom are with Barbara in the shelter with the children. There are other civilians sheltering with them as well.
Ms. Hyatt, a Pittsfield native, said the pair runs "a rehab center for children at risk. And that's children whose parents are substance addicted or into prostitution, or whatever."
She said they typically have 16-30 children at a time, who stay for between 9 and 18 months.
"We take them through rehab, physical, emotional, spiritual, educational. And our whole goal…is to put the children back into families. And the first choice is their biological family. And second is adoption and last choice as foster family."
She said, "We've had more than 500 kids be returned to families and doing well. And 95% of that is back in their Ukrainian family.
"I gotta tell you…it's hard to be here [in the U.S.] and not be there. But…I can see that it's good that I'm here, let's put it that way," so she can get the word out about the situation.
Was the invasion a surprise? "Everybody was shocked. I can tell you before I left, it was all business as usual. But we did have prepared some contingency plans for just the 'what if.'
"Which thankfully, we bought food and water for six weeks supply. And we bought these military ration kits" that could last for about six weeks.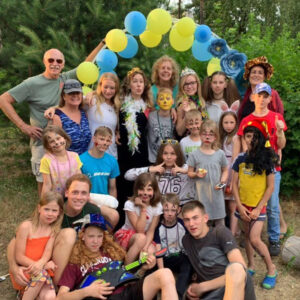 She said that as military rations "you don't have to prepare the food or anything. And that was just a godsend that we did that. And so they're doing well. They've got food and water, and they got little thin mattresses on the floor."
Susan Klaiber in Vermont told The Chronicle her sister was working as a missionary in Kyiv after the break-up of the civil war in 1991 "and saw that there were children abandoned on the street. And were living under the streets…under manhole covers. And they started leaving bread and soup for these kids.
"They would see the kids come up out of the manhole covers and grab the food and go back underground. And that's where it started all those years ago…and eventually it evolved into them starting this orphanage," she said.
Barbara's brother Peter, who lives in Hartford, said, "She has a tremendous faith in God. And it keeps her strong. I mean, those are her kids. They're hers and Jane's."
He said, "I don't feel hopeless, I feel helpless."
Ms. Hyatt said, "It's interesting that the news constantly is referring to it as David and Goliath. And we all know who won that battle. So I'm kind of hoping for that.
"I personally don't think Putin is playing with a full deck right now. He's just doing some strange things…Why does he want to hurt his people? He's going to hurt his own people. And why is he sending these conscripts into the war? I mean, he's lost over 4,000 troops. I don't understand it. Does he not care for human life?"
Ms. Hyatt said she felt Ukraine has made significant strides in recent years. "The country's gotten better. There is less corruption. There was a huge desire for it to be a democratic country, and they're trying their very best to work in democracy and diplomacy.
"There's tremendous, tremendous potential in that country. People are brilliant, the literacy rate is 98%. We can't say that here."
Of Ukrainian President Volodomyr Zelenskyy, Ms. Hyatt said, "previous I respected him. And I feel that he is wanting an honest and democratic Ukraine.
"Post this. He's my hero. This guy has…done some things that no other foreign leader has ever done. They've all just hightailed it and gotten the heck out of Dodge. But he's right in there with the mix.
"And the Mayor of Kiev [former boxer Vitali] Klitschko, and he's right in there too. And he's a great guy….he's done wonders for Kiev. He's made some big improvements. He doesn't care about bribes and money from anyplace else. He's got enough of his own from his boxing."
Ms. Hyatt said people who want to support the orphanage can go to fathers-care.org. She said they're registered with the IRS as a humanitarian organization, "not denominational whatsoever…we live by biblical principles."
"We asked a independent CPA last year in Atlanta to audit the Father's Care USA funds. And 99.2% goes to the children…Barbara and I get zero from Father's Care. We are totally independently supported by other individuals," she said.
Copyright © 2022 Lone Oak Publishing Co., Inc. All Rights Reserved