By Cathy DeDe, Chronicle Managing Editor
Saratoga Hospital's new Family Medicine Residency Program brings six doctors to Saratoga and to the soon-to-open Hudson Headwaters Heath Network Center in Glens Falls.
The three-year residency is a collaboration with Albany Medical Center and Hudson Headwaters. The plan is to add six new residents each year, totaling 18 residents, by 2025.
On Friday, July 8, Hudson Headwaters hosted a panel talk for the new residents with Glens Falls area social service organizations, at Crandall Public Library.
The purpose was to highlight resources available to patients beyond the straight medical care provided by doctors, panel organizer and Hudson Headwaters Director of Community Relations Pam Fisher told The Chronicle.
"We want the residents to put themselves in the shoes of their patients, like understanding transportation issues they might face, or work loss, or access to food, and other hurdles," she said.
Presenters besides Hudson Headwaters included the WAIT House, Catholic Charities and its Domestic Violence Project, Southern Adirondack Independent Living Center (SAIL), Family Service Association of Glens Falls and Crandall Library.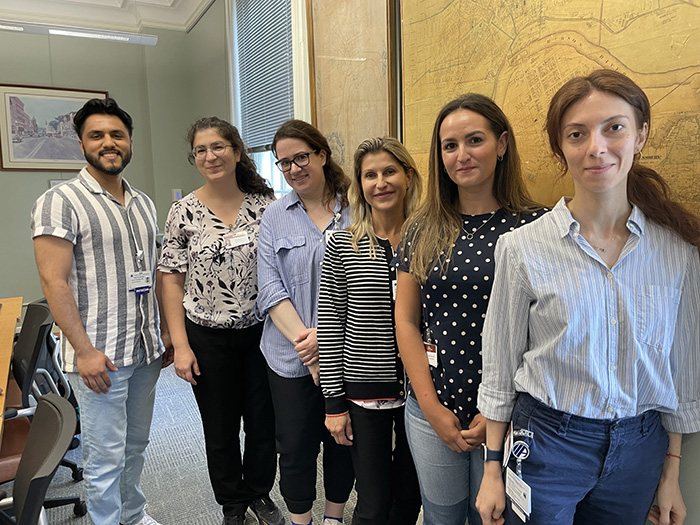 Brittany Rozelle, Hudson Headwaters Director of Care Management, noted HHHN serves about 500 patients a month in their case care management program, some with "episodic" or short term difficulties, with others experiencing long-term issues.
She posed several short scenarios, such as a pregnant 19-year-old who might not volunteer right away in a clinical setting that she is homeless.
The panel talked through the kinds of clues that medical staff might glean in conversation, and specific local resources that could offer housing help, diapers or medical supplies, for example.
Hudson Headwaters said the program is considered "innovative" for its emphasis on addressing "behavioral health, addiction treatment, population and community health, and rural health," alongside traditional clinical training, while also touting "state-of-the-art technology."
"This is definitely a different way of looking at medicine," resident Awais Chaudary of Toronto agreed, speaking with The Chronicle after the panel.
He called it "the bio-psycho-social model of medical care."
"You know that there are services in every community," said Zeynep Ovacik of Istanbul, Turkey. "It is good to know the specific things that are available here."
The residents will be based at Saratoga Hospital's main campus, and at Hudson Headwaters new Family Health Center on LaRose Street when it opens in the Fall.
They'll also work at Saratoga Community Health Center, the Backstretch Clinic at Saratoga Race Course, and at Hudson Headwaters Ticonderoga Health Center.
Copyright © 2023 Lone Oak Publishing Co., Inc. All Rights Reserved