By Gordon Woodworth, Chronicle News Editor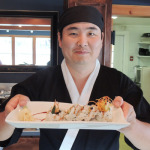 The Chang family, which has operated the Mikado restaurant in downtown Glens Falls for 16 years, has opened up Mikado Sushi in Bolton Landing.
It's located in the former Caffé Vero space at 4933 Lake Shore Drive.
"It's a great spot, and it was available, so we decided to give it a shot," said Danny Chang, who is running the restaurant.
"We will be open just in the summer months, from Memorial Day to the Car Show weekend in early September."
Mr. Chang said the restaurant has been open for about a week, "and so far business has been good."
He said it will operate seven days a week starting next week.
"We have different styles of cooked food as well as sushi, and more dishes and more creations are coming," he said. "We have cooked sushi, too, and lobster tempura and shrimp tempura.
"We are close to fusion food, Asian food with an emphasis on Korean and Japanese cuisine. But sushi is our specialty.
"We also have things like pork belly with red wine sauce ($18) and a garlic steak with fried sliced garlic and soy vinegar sauce ($23).
"We have dumplings and salmon, tuna, white tuna, snapper, king crab legs, sea scallops, octopus, shrimp, lobster…We're trying to bring up the whole sea!"
Smaller sushi rolls are priced at $7 or $8, and choices include eel, smoked salmon, yellow tail tuna and scallion and spicy scallops. Larger special sushi rolls are $9 to $15. Choices include a Crazy X roll ($15), with lobster tempura, crab and asparagus inside, topped with spicy tuna, spicy mayo and sweet chili sauce.
Mr. Chang said he has eight employees now, but might add as needed.
"Last weekend we had a lot of people from the city, and a lot of local folks, and they said they loved it," he said. "I think we will do pretty well here."
Info: 644-2060.