By Cathy DeDe, Chronicle Managing Editor
The second annual Adirondack Film Festival — organized by the Adirondack Theatre Festival — was a rousing success, electrifying downtown Glens Falls. For two days and nights, Friday and Saturday, we were our own little Park City, Utah — Sundance Film Festival's home.
Sidewalks overflowed with filmmakers and film-goers rushing to get on line for screenings, pausing to eat out, even doing some shopping.
Pass holders were everywhere, lanyards around their necks, swag bags over shoulders, annotated programs in hand.
They were all ages, skewed maybe a little artistic and urbane, an instant, friendly, energized movie-centric community. Who watches four movies in a day? This crowd did, and in many cases, wanted even more.
A total of 767 passes were purchased or distributed, far more than last year's 400, even surpassing event director Chad Rabinovitz's early estimates. That number includes about 50 filmmakers, but not the many festival volunteers, he said.
Mr. Rabinovitz reports 3,500 occupied seats altogether; the festival literally counted each room as the movies started. Mr. Rabinovitz says that shows, on average, that each passholder attended an average four or five movies. He said it helps their planning to understand how patrons use the passes.
The crowd was under 200 for Thursday night's free pre-festival community party, youth hockey game and screening of the movie Miracle on the Jumbotron at Cool Insuring Arena — seeming small in the cavernous space, where even a thousand spectators can seem a paltry turnout. But Mr. Rabinovitz says it was what they expected, and he's open to using the space again. On a school night it's maybe a bit of a hard sell — not to mention how tough it can be to break a new event into people's consciousness.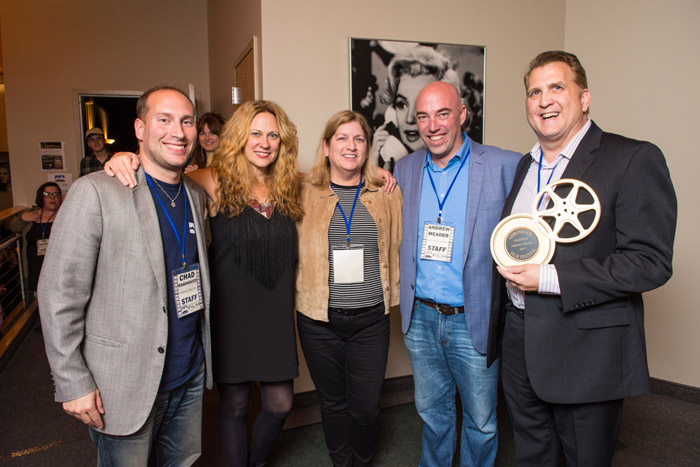 About 45 to 50 filmmakers attended — some with spouses and even children. Princess Bride star Chris Sarandon's wife, actress Joanna Gleason, was camouflaged in large glasses and a headscarf.
The festival screened 80+ features and short films in five theaters over two days. With 19 headlining or feature movies and 11 "blocks" of shorts, there were 30 events, plus the screenwriters panel talk.
Nearly every movie or block repeated once and sometimes twice or three times, but even a superhuman couldn't see everything, a necessary frustration.
Biggest buzzy questions of the weekend among passholders: What have you seen? What did you like?
Trust Jessica Levandoski, the Film Festival's programming director, whose taste and indie movie connections again brought in a remarkable, fine line-up of films.
Screenings were added on the fly for popular titles like Getting Grace — the eventual "Best of the Fest" people's choice winner — as well as the eye-popping animated Loving Vincent and odd but engaging festival sleeper hit Dave Made a Maze.
As for the downtown effect, Minky Mink store owner Maura Forcier reports, "We had a super busy weekend and gave 10 percent off to all film fest attendees. We had three times as many sales as we did that same day last year."
Mr. Rabinovitz said, even more than for his five-week Theatre Festival, the results for stores and restaurants was immediately quantifiable: Film Fest patrons were all wearing lanyard badges.
Can the festival grow? "We'd have to add more capacity," festival director Chad Rabinovitz and board president Andrew Meader both said, separately.
You can't sell more passes than you can accommodate people at screenings, is the point. Not every event was a sell-out, but screening rooms especially for the feature films were at or near capacity.
Growing the festival will likely require adding more venues or adding more days, Mr. Rabinovitz said.
Copyright © 2017 Lone Oak Publishing Co., Inc. All Rights Reserved.