By David Cederstrom, Chronicle Staff Writer
AJ Richards, executive chef at Dunham's Bay Resort in Queensbury, said he's been working on expanding use of local and regional farm ingredients at the resort's restaurant since arriving there three years ago.
"We're not claiming to be 100% 'farm to fork,' but of the produce, we're at 95%," Chef Richards said. "This has always been a passion of mine. I've always wanted to showcase everyone else around."
Most locally of all, he grows some herbs and tomatoes himself on the resort property, but Chef Richards said the bulk of their produce comes from the Juniper Hill vegetable farm near Westport, N.Y., through a CSA (Community Supported Agriculture) program.
He's also started using produce from Hal Bain's Sunset Farm on Ridge Road in Queensbury, "probably 10 miles down the road."
The "Juniper Hill Farm CSA gnocchi," a potato pasta made with "market vegetables," whatever's in season, was a menu item last year, he noted.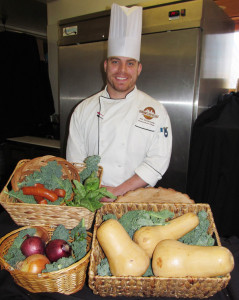 Pasta Primavera is another dish that lends itself to using local fresh vegetables, he said. "The guests were very receptive to that. We get a lot of good feedback."
The chef said they're using "the killer sheep cheese" from Nettle Meadow Farm in Thurman, and cheeses from the Adirondack Cheese Company, the Vermont Creamery, Grafton Village Cheese, Green Mountain Farms and R&G Cheeses.
They get heavy cream from Battenkill Valley Creamery, apples from Saratoga Apple, bacon from Oscar's Smokehouse in Warrensburg, maple syrup from Hidden Hollow Maple Farm in Warrensburg, chicken from Vermont, and "I'm looking at Rising Sun Farm out of Whitehall" for beef, Chef Richards continued.
He said they get beer from Davidson Brothers and Adirondack Brewery, and wine and spirits from Lake George Distilling Company and Adirondack Winery.
In season, keeping it relatively regional, they get a lot of items grown in New York State, as far west as Syracuse and Buffalo, Chef Richards said.
Originally from Syracuse himself, the chef said he came to this area in 2009. He said that while working at the Gideon Putnam, Chef Brian Sterner's preference for fresh, local produce was a strong influence on him.
Chef Richards said some people say buying local is more expensive than going through a regular supplier, but that the costs for going local totaled about $500 less during their first year with the CSA.
Their seafood comes from Boston and Rhode Island, but they get it through local supplier Steve Johnson of Seafood Run in Lake George, Chef Richards said.
He said that besides buying local, the resort is trying to be "green" in other ways. For instance, their used grease goes to Buffalo Biodiesel to be recycled, other food waste is composted or goes to local rabbit and pig farmers, and the resort has switched to more efficient LED light bulbs.
The soaps and shampoos in the resort rooms come from a company near Cortland, N.Y., he said.
Copyright © 2015 Lone Oak Publishing Co., Inc. All Rights Reserved.