By Gordon Woodworth, Chronicle News Editor
"I think getting an offer from Duke made everything more serious," Glens Falls High School junior Joseph Girard III told The Chronicle after a 90-minute basketball workout Sunday.
"Before, it was enjoyable and it's still enjoyable, but…it's time to see who is really focusing on me. I haven't cut my list yet, but we're starting to see which schools are focusing on me."
Girard says that the Duke offer "made some schools back off and some come harder." He said the schools coming harder include Syracuse, Michigan, Boston College, Ohio State and Oklahoma.
"And Notre Dame and Villanova are the two schools that are coming hard that haven't offered yet."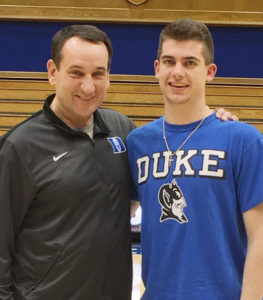 Girard said he doesn't have a timeline to decide but "I just know that it's going to be done before my senior basketball season. I know it will be done by then, whether it's tomorrow or next week or whenever."
He said getting an offer from Duke is "kind of crazy…Coach Krzyzewski is probably the greatest coach ever, with as many national championships as he has, and he has a pretty good shot of winning another one this year and next year. You're pretty much guaranteed going to the NCAA tournament every year, and you're pretty much guaranteed to have a winning record."
'It would be great fit at Duke'
"There's only a few bluebloods and Duke is one of them…I couldn't be more grateful for it, but at the same time I can't get wowed. But Duke is a great place. They've done a lot of great things with guys like me.
"Greg Paulus did some great things, Coach [Jon] Scheyer [a Duke assistant coach] did some great things. Even Quinn Cook, who's kind of like me. He's a four-year guy and just tough as nails and he likes to win. Even J.J. Reddick. He's more an off-the-ball kind of guy, but at the same time it's still a guy who can shoot.
"Coach K has done a really good job making sure his shooters get shots. Right before shootaround, he came over and said, 'You're going to see tonight that I let my guards shoot and I let them shoot a lot.'
"He was kind of trying to sell it, but at the same time I have recognized that and realized that they do let their guards play and shoot. It would be a great fit there."
Girard said at the shootaround before Duke's game with Louisville, he told Coach K that he is good friends with Albany City Rocks teammate Isaiah Stewart, who also has a scholarship offer from Duke.
"Coach K didn't know we were as close as we were," Girard said. "And I played against [Duke standout freshman] Marvin Bagley last summer, and Bagley came over to say hi. He recognized me from the summer. Coach K didn't realize I knew him until Bagley came over."
Girard said he and his dad, Joe Girard Jr., had asked Coach K for a timeline for when an offer might come and that Coach K responded, "What do you mean? We want you now!"
Girard says, "It just kind of came like that. I was at the time shocked and honored. It's Duke. It's Coach K. There's not much more you can really say."
He said Coach K said he wants more of a balance of "one-and-dones," or players who only play their freshman year before going to the NBA, and four-year players, and said "my class will be a pretty big class."
Girard said he hasn't narrowed his list to a Top 5 yet, but says, "The top 5 would be those schools that have offered and are showing that I'm a priority for them…And the two schools who are coming hard and haven't offered yet, those are great schools and I can see myself fitting in there, but they haven't offered me yet. That's alright. I'm sure they will come to see me this spring and summer."
Copyright © 2018 Lone Oak Publishing Co., Inc. All Rights Reserved.