By Cathy DeDe, Chronicle Managing Editor
After a five-year hiatus, Chris Reed, Jr. is bringing Drum Corps International competition back to East Field in Glens Falls on Saturday, July 21.
The new event is called the Glens Falls Music Academy Showcase. It's organized by Mr. Reed, himself a drummer and the Music Academy's owner, assisted by Ben Bernard, who leases East Field for his Golden Dragons summer collegiate league baseball team.
For more than 30 years, the Fort Edward Lions Club hosted the tour as Adirondack Drums until they stopped five years ago, citing financial reasons.
Four corps will compete:
The Raiders of Burlington, New Jersey
The 7th Regiment of New London, Connecticut
The Legends of Kalamazoo, Michigan
The Spartans of Nashua, New Hampshire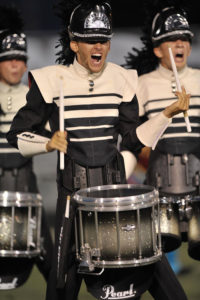 Touring corps earn points towards an eventual national competition. The high-energy choreographed shows feature young marching drummers and brass musicians and costumed color guard performers.
How the revival came about
Mr. Reed said he and fellow Glens Falls Academy drum teacher Ethan Burgess joined an informal drum circle last year in the park next to the Glens Falls Burger King.
"Afterwards, we were lamenting, there isn't enough critical mass of community drumming here. We got talking about drum corps. He was a member of the Phantoms in the 1990s, until he aged out. We just said, 'Dude, be the change you want to see.'"
They reached out to Drum Corps International, the City of Glens Falls, tourism director Amy Collins, and Mr. Bernard.
"It was really past the deadline, but DCI really wanted to come back to Glens Falls, so they added us in," Mr. Reed says.
Ben Bernard & $10,000 guarantee
He said that Mr. Bernard arranged for the Friends of East Field to front the $10,000 guarantee that DCI requires.
In return, proceeds from the event will help pay for improvements to East Field.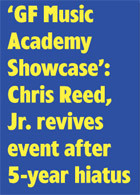 Mr. Reed said the City of Glens Falls also has a reimbursement grant through State Senator Betty Little's office to redo some of the bleachers, among other projects.
"East Field needs moments like this," Mr. Bernard said in press materials provided to The Chronicle. He was not available for comment at press time.
Mr. Reed said he has arranged discounted lodging for the eight judges at the new Holiday Inn Express at Northway Exit 18, and arranged for four area schools to house the touring drum and bugle corps members. They will have practices open to the public the day before the show.
Typically, shows include as many as eight corps. "Hopefully," Mr. Reed said, "we will be back in the loop if it goes well, and we will get more next year."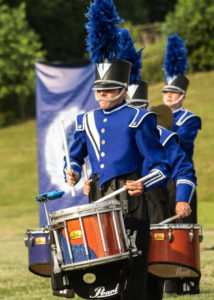 Hope to draw 1,600 to 1,700
Mr. Reed said they hope to draw at least 1,600 or 1,700 people this year. "We can accommodate up to 2,700 with VIP seating on the 50-yard line.
The July 21 Showcase will start at 7 p.m. Advance tickets are $18 general admission, $25 premium seating. Week of show prices are $22 and $30.
Ticketing is through the Cool Insurance Arena box office by calling 855-432-2849, online at www.CoolInsuringArena.com, or in person.
Copyright © 2018 Lone Oak Publishing Co., Inc. All Rights Reserved.