By Gordon Woodworth, Chronicle News Editor
Dizzy Chicken will close its wood-fired rotisserie chicken restaurant at 72 South Street in Glens Falls by the end of the month, but "we're going to keep everything there for our catering business," Mr. Bartlett told The Chronicle Tuesday.
He said some employees will move to Dizzy Chicken's other location, on Congress Street in Saratoga Springs.
"It's a tough location here in Glens Falls, but our catering has grown exponentially," Mr. Bartlett said. "My thought is we will be so busy in Saratoga during the summer, we will need the space in Glens Falls to use for catering."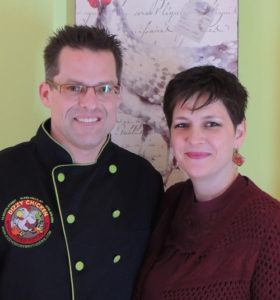 "We were holding out for some changes on South Street, but those appear to be at least two years away, so April 28th will be our last day of business here, providing enough employees are with us that long."
The Glens Falls restaurant opened in July 2015. "We will keep everything in the restaurant and it will all be ready to go if things start to happen on South Street," he said. "We have a loyal following in Glens Falls, and we are very thankful for that. And we will still be here for catering."
Gift certificates can be redeemed at the Saratoga location, Mr. Bartlett said.
Still plan to participate in 'Taste'
Asked if Dizzy Chicken will still continue to participate in the Glens Falls Kiwanis Club's Taste of the North Country food festival, he said, "Yes, we'll do it. It will be beneficial to us to remind folks were still around."
— Gordon Woodworth
Copyright © 2018 Lone Oak Publishing Co., Inc. All Rights Reserved.