By Zander Frost, Chronicle Staff Writer

After nine years as Open Door Mission President, Kim Cook has stepped down. "She would now like some time to rest and spend time with her family," wrote board chair Jeff Purner.
Dean Brown, The Open Door's Chief Integration Officer, a Glens Falls native and Corinth graduate and resident, has succeeded her.
Mr. Brown is pastor of the South Corinth United Methodist Church and serves on the Corinth Village Board of Trustees. He founded Vantage Point Church on Ridge Road in Queensbury. After 11 years there, he became bereavement coordinator at High Peaks Hospice.
"Kim did a tremendous job here," Mr. Brown told The Chronicle. "She did what many people at the time said would be impossible to do. She moved us from being a little soup kitchen on South Street, to a facility now with four levels and with a breadth and depth of services to the community."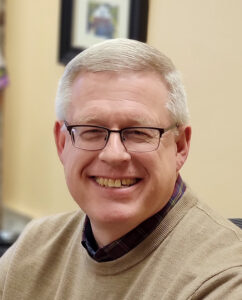 "You don't get this level of service delivery, except in large cities with large, large missions. And Kim gave exceptional leadership here. She's a visionary."
Board chair Mr. Purner was quoted, "In nine years as president, Kim really brought the homeless issue to light in Glens Falls, enhanced community ownership of that challenge, started the Code Blue Shelter program, launched the innovative Life Path program to help people rebuild their lives, and raised over $5 million in local and national funding to bring us from a soup kitchen model to the comprehensive services now offered at 226 Warren Street."
The Open Door, which in 2018 moved from Lawrence to Warren Street, said it operates 8-bed men's and 6-bed women's shelters, serves over 1,600 meals monthly, and provides over 25,000 meals yearly through its emergency food pantry.
It's a Code Blue shelter in cold weather.
Mr. Brown attended Kingswood University in Canada, and now serves on its Board of Trustees, said a press release. He is a member of the Wesleyan Church's District Board of Directors, and established a church in Metro Halifax, Nova Scotia before returning to New York.
"I think we're uniquely poised in our community to be able to really continue to help and support people in need, to help people with homelessness," Mr. Brown said.
"Our Life Path program is so great. It's an eight-step process that people work through, it can take up to 10 or 12 months…we want to see as many people as we can work through that so they can be safe and stable and schooled and skilled and secure. And then be serving."
Mrs. Cook was quoted, "Open Door has been my life for so many years. It has been an exhilarating challenge and success beyond what anyone could have imagined."
"It has been humbling to see God's love and provision for the most vulnerable in our community. I am so grateful to have been on this journey with such an extraordinary team of professionals and volunteers and so supportive a community."
On Mrs. Cook's departure, Mr. Brown said, "Working at a rescue mission, it's a lot of work. And to take us from such a tiny little group, to where we are today with 30 employees and 800 volunteers and a building program, that takes a lot of energy over an extended period of time. She's just a tremendous person."
"I believe our very best days are ahead as we provide care and support to the homeless and deliver needed services to our community," Mr. Brown was quoted. "We will continue to innovate so that our guests are empowered to become self-sustaining members of our community."
Copyright © 2022 Lone Oak Publishing Co., Inc. All Rights Reserved