By Cathy DeDe, Chronicle Managing Editor
Davidson Brothers Restaurant stopped its controversial no-tips policy at the start of this year.
Owner Rick Davidson tells The Chronicle, "I said initially, we are committed to do the right thing by all of our staff and the customers.
"However, although the staff was very supportive and did very well with this, in the end, a number of customers were just uncomfortable not leaving a tip. One thing you don't want to do is make the regular customers uncomfortable."
"In the end, you gotta make the customer happy," Mr. Davidson said. "It was obvious this market isn't ready for that" no tip policy.
Davidson's implemented its no-tip approach a year ago in January. The move generated much comment, including heated Facebook conversations, and some attention from Capital District media.
At the time, the restaurant added an 18 percent surcharge to the bill and said it would be evenly distributed between front-of-house wait staff and kitchen employees.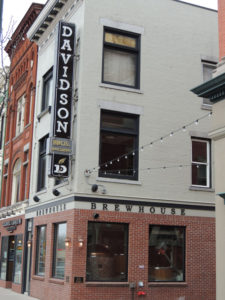 The surcharge was eventually rolled into increased prices for the food.
Mr. Davidson said he has now reduced prices to reflect the restaurant's return to the more traditional tipping policy.
"We talked to the staff throughout the process, all the staff," Mr. Davidson says. "They appreciated that we tried it, and they put up with all the blow-back."
He continues to point out the "significant" inequity between front of house and back of house staff in terms of income. Tips typically form the bulk of servers' income, but, by law, he said, they cannot be shared with kitchen staff, who typically earn significantly less than servers.
"I think the landscape will change radically in the next 10 years," Mr. Davidson suggests. "Certainly, what's going on, not just with restaurants, but labor is being replaced with technology, like driverless trucks, or iPads in restaurants."
He said, "Our goal has always been to employ people and make the community a better place."
With the return to the traditional tipping format, Mr. Davidson said they will no long-er offer wait staff paid vacation time.
"It was a steadier income for the staff, but waiters, they're used to that (unsteady tip-based income). Our staff is great."
Davidson's has 28 employees now, and up to 40 in summer, Mr. Davidson said.
Copyright © 2017 Lone Oak Publishing Co., Inc. All Rights Reserved.