By Cathy DeDe, Chronicle Managing Editor
The 10th annual McDonnell Music Festival Concert is Saturday, Sept. 16, from 2 to 6 p.m. at the Elks Lodge on Cronin Road in Queensbury. Info: www.curefa.org.
The event is organized by musician Dave McDonnell, frontman of the Marcabes classic rock group, and his son Dylan. It benefits FARA — the Friedreich's Ataxia Research Alliance.
Dylan, who turns 40 at the end of September, was diagnosed with Friedreich's ataxia at age 19. FA is a rare degenerative disease that impacts balance, speech, muscle coordination. It does not affect cognitive ability, though it can impact communication skills, Dylan notes.
"At first, I was in denial, and I didn't want to talk about it," Dylan says.
Nearly 10 years later, he was ready to reach out to the FA community, he said, attending conferences around the country.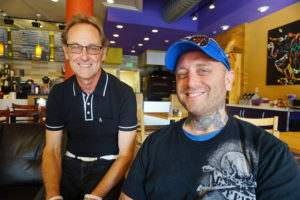 He learned there about others who used recumbent tricycles for exercise and transportation, an attractive option as his mobility was increasingly limited.
"But it was way more expensive than I could do," he recalls.
Thus was born the Music Festival benefit: The first one, in 2008, was to help purchase his first trike. He now has three, for different road or trail conditions, and uses them every day, his father observes.
It was supposed to be held in the Crandall Park pavilion but "it was monsoons," Dave recalls. He contacted Doug Miller last minute, at the then-new Adirondack Sports Complex, and moved the fund-raiser there.
The next year, rather than a personal event, the family decided to give the proceeds to FARA — the recipient ever since.
It has since moved to the Elks Lodge, simply, they note, because one year the Sports Complex wasn't available.
Originally a blow-out all-day affair with 10 bands and more, the event has become "shorter and smarter," Dave says. "Then, people can go do other things."
More than 30 people volunteer to help with the event. "It's an army of ants," Dave laughs. "everybody just does their part."
Music is by The Marcabes, Bob's Monte Carlo, and Kelly & Son Acoustic. Young saxophone phenom Sean Pettis will open the event, and then play between acts.
"He did that last year, and people just loved it," Dave enthuses.
There will also be kids' games, face painting, chair massages, barbecue, chili, pizza, other foods and a silent auction.
A key component is the raffle for themed baskets and other prizes, Dave says. "We get people who come just for that."
Featured prize is a separate raffle for a membership at Hiland Golf Club.
Dylan estimates they've raised more than $100,000 for FARA over the years, $14,000 last year. "But I don't like to focus on the numbers," he adds. "We are collecting a little more every year."
There will be also be a "Walk for Dylan" to raise funds for Dylan's own needs, organized by Pam Vogel and Candy Kelly.
"I don't think there will be things to cure me, but you do it for young people who might have the disease," he says.
He adds, awareness is key: "Everyone knows what cancer and ALS is. Now, more people here know about FA too. That's half of our goal."
"There's a lot of negative comes with this disease," Dylan says. "I like this event because it seems like something positive."
'We'll be short one person'
Terry McDonnell, Dave's wife and Dylan's mom, succumbed last May to her long battle with cancer.
"It'll be extremely difficult," without her this year, Dave says. "Everybody is there to help, but we are short one."
"She was always there," Dylan says, "Even when she was going through chemo. Mom was a huge part of this."
Copyright © 2017 Lone Oak Publishing Co., Inc. All Rights Reserved.