By Mark Frost, Chronicle Editor
In its third year of operation, The Aviator Restaurant at Warren County's Floyd Bennett Memorial Airport has established itself as one of the region's best.
We find the food excellent, interesting and remarkably consistent; the staff, ambience and hospitality winning; and the overall dining experience elevated, yet good value given the quality.
"It's going great," 40-year-old chef Denver Grover tells The Chronicle. "I hear a lot of good feedback. I have a good crew." Her sous chef is Jenn Nichols; the chef de partie is Martin Semon.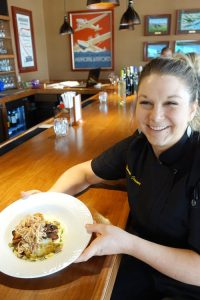 Ms. Grover says, "We've built a menu that appeals to the area, with a few little things that kind of open people's eyes."
It combines fresh takes on "a lot of things that people have around here — your chicken, your salmon, your filet" with such dishes as Spanish paella and "Asian flavors here and there."
The menu, which changes seasonally, continues such standbys as the Filet Mig-non Au Poivre, $22 petit, $37 full (I love it!); Faroe Island Salmon ($17 half, $27 full); and 8 oz. Grilled Hanger Steak ($29).
Then it ranges into entrees like Pan Seared Cod with crispy pork belly, grilled endive, passion fruit glaze and fried shallots, ($26), Tandoori Style Grilled Rack of Lamb ($28), Asian Inspired Brined Pork Chop ($28) and Paelle de Fideos ($32) — chicken, shrimp, mussels, calamari, clams over "smokey saffron scented angel hair with red peppers, green olives and peas."
"There's nothing we buy already made," says Ms. Grover. "We try to use a lot of local products in the summer."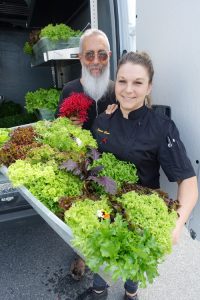 That zeal resulted in a Creamy Grilled Ramp soup that was a revelation when we happened upon it one evening this past spring. It was made from the wild leeks picked by Aviator waiter Chad Davis.
The chef says, "It's a very short season. Chad got this for me, bags and bags of it."
She said they grilled it with olive oil, salt and pepper, then pureed it into soup that my wife and I couldn't get enough of.
"These are the fun things we like to do," says the chef, also citing seasonal delights like rhubarb and fiddlehead ferns.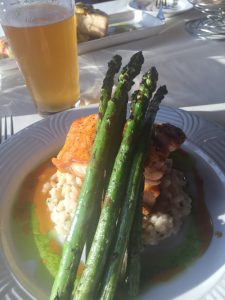 Ms. Grover grew up in the Finger Lakes. She says her grandfather had a "hobby cattle farm." After high school she went to the Culinary Institute of America in Hyde Park, then worked at The Sagamore for three years. She also cooked at such other area venues as The Copperfield Inn in North Creek, Point O'Pines Camp/Jimbo's Restaurant in Brant Lake; and the Lake George Club. She did a stint in Williamsburg, Virginia, too. "I missed the Adirondacks, so I came back."
"I spent a year trying to open my own restaurant," she says. "It's very difficult."
A friend told her that local caterer Sally Longo "was looking for a chef" for the restaurant that Rich and Beth Schermerhorn had built at the airport.
"It was the first time I ever met Sally," said Ms. Grover. "I'm not a chef that's gonna make someone else's food. But we can collaborate and we did." (Sally has now retired to Oregon.)
As customers, we appreciate the dining room's quiet as well as its look, and how the staff adjusts the shades on their own initiative so we can enjoy the view of the setting sun without being blinded by it.
The Aviator operates Mon.-Sat. from 5 p.m. "Reservations strongly suggested."
Copyright © 2018 Lone Oak Publishing Co., Inc. All Rights Reserved.