By Zander Frost, Chronicle Staff Writer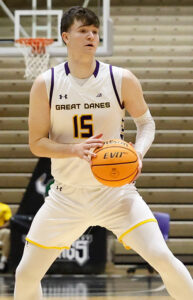 Hudson Falls's Jonathan Beagle continues to excel in his first season playing for University at Albany Basketball. The 6'10" freshman was the America East conference Rookie of the Week for the second straight week and for the fifth time this season.
He scored a career-high 21 points against Bryant University on Jan. 11.
He's averaging 11.8 points and 6.8 rebounds on the season.
In the nationally televised game against now #10 Virginia, the ACC Network commentators praised him repeatedly.
Jonathan wasn't aware. "I didn't really go back and watch the full game, but a couple people told me that they were really positive so obviously it's really cool to have that," he told The Chronicle.
"A good young pup," announcer said.
"Somebody did tell me that one, that's funny," Jonathan chuckled. "I get a lot of [jokes] because of my last name but that's definitely one of the better ones."
The season is "going really well. We're struggling a little bit right now. We're trying to find ourselves," Jonathan said. As of Tuesday they're 6-14 on the season.
"We've had a couple of injuries, but it's going really well. Each game is getting easier," Jonathan said. "So it's clicking a little bit."
Is Division 1 basketball what Jonathan expected?
"Individually, I thought it would be maybe a little bit harder," he said, adding that his coach, Dwayne Killings, "gave me really good planning coming in."
"Team-wise, I thought it'd be a little bit easier," he added.
Time management is a big challenge.
"I mean, we have 8 a.m. practice until 11, class at 1 some days, then we have class at 3 and 6," he said. "We really have no time to ourselves. And then you go back to the room, you start to do homework."
"You're just so surrounded by so much you just want to have time for yourself sometimes."
"It's a lot but it's worth it," he added.
Jonathan forwent his senior year at Hudson Falls, transferring to St. Thomas More, a Connecticut prep school where he spent two years before going to Albany.
Was that a difficult decision?
"Yeah, definitely. I mean, leaving all my friends," he said. "And I wanted to stay another year, but I knew COVID was going to kind of mess it up a little bit."
He said it proved to be the right choice. "I probably wouldn't have been prepared. It definitely helped me a lot going there and playing against better competition."
His brother plays for the Tigers JV squad. Jonathan is still invested in the Varsity team. "They're doing really good right now. So I'm happy for that."
Albany hosts Binghamton on Thursday, Jan 19, and plays at New Hampshire on Jan. 25, both at 7 p.m. on ESPN+.
Copyright © 2023 Lone Oak Publishing Co., Inc. All Rights Reserved