By Zander Frost, Chronicle Staff Writer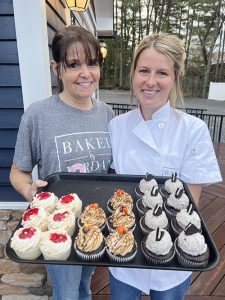 Baked by Jordan makes cupcakes. Owner Jordan Cleavland makes and sells hundreds of them weekly at the Kelly's Roots cafe on Luzerne Road in Queensbury, and she caters as many as 23 weddings per year. She said she's completely booked out for 2023.
Jordan is local through and through. She graduated from South Glens Falls High School in 2009, attended SUNY Adirondack's Culinary Arts program. She got her baking start at the Hannaford Supermarket in Saratoga, transferring as soon as possible to South Glens Falls.
"I loved Hannaford," Jordan says.
She left to be head baker at a cupcake shop in downtown Saratoga Springs, Bettie's Cakery, which later closed.
"I went back to Hannaford," Jordan says. "To me it wasn't like, Oh, I'm taking a step back. It was — now I have a chance to really perfect what I do."
She developed a following. "I had people coming up to me at Hannaford trying to place private orders. It was like, wait, I'm getting enough clientele here. I have word of mouth that I could probably do this. I could do this as a job."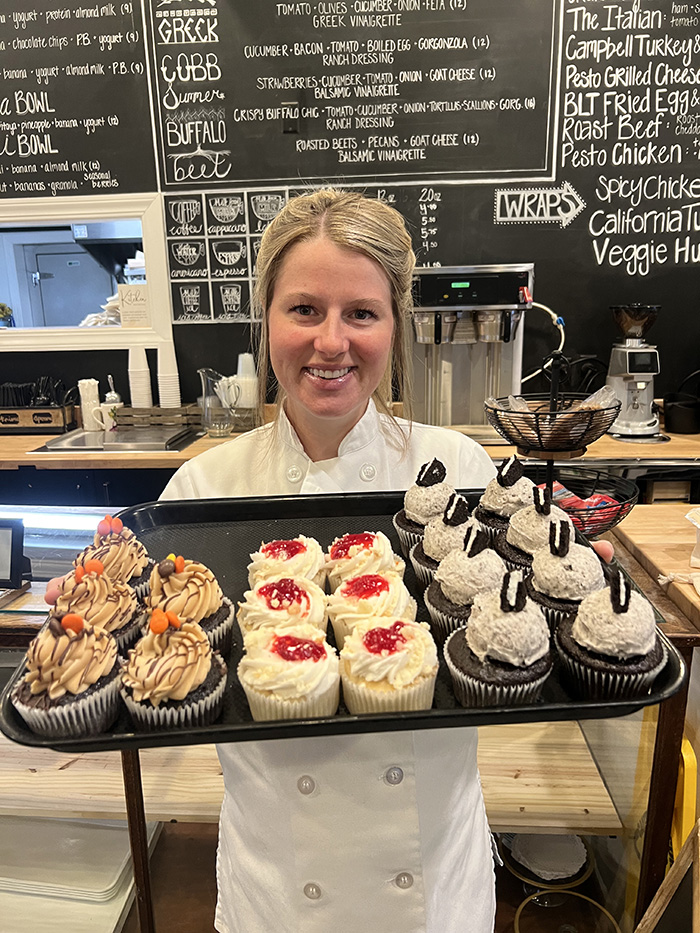 She launched Baked by Jordan in 2015, just before her husband, Scott Cleavland, deployed to Iraq. Scott, Glens Falls Class of 2008, was in Iraq for nine months, Jordan says. He's still in the Army Reserve.
Jordan's only assistant is her mother and "best friend" Robyn Weinberger, who wears a Baked By Jordan T-shirt "like a uniform," Jordan says proudly.
Jordan said her mom is the Boat Manager at Shoreline in Lake George and her dad Shawn works at Finch Paper.
Jordan, nee Weinberger, is the oldest of five siblings, with four younger brothers, all of whom live in the area.
Jordan now has a daughter herself, with a second daughter due this summer.
"I'm realizing, oh my gosh, I don't have to live at a baseball field," she jokes.
Jordan grew up around baking.
"For every single birthday, my mom made our birthday cake. And they were the coolest cakes," Jordan said. "And she let me play in the kitchen with her. Being the only girl, that was kind of our thing."

"The rainbow sprinkles, the butter cream — it was all from watching my mom do it all those years," Jordan adds.
Her business has grown organically through social media and word of mouth.
Her first "real big" breakthrough was her Valentine's Day promo, "which I still offer every year" — a box of a dozen cupcakes. Initially, she did strawberries too, but not anymore — "it's gotten so big."
"I had friends and family putting it all over online. And I got so many orders. And that's kind of when people really knew, okay, she's doing this."
Then Covid disrupted her progress.
"My weddings were all canceled," she said. "And it was devastating because I wanted to still be baking."
This led to the Kelly's Roots connection.
"Kelly [Ehlert], the owner, and I have been close friends for a while," Jordan said. Over breakfast, she said she raised the idea to Kelly of baking at the cafe.
This will be her fourth summer baking there. She does it two days a week.
Jordan does not book weddings for the following year until 10 a.m. on December 1. "I do a first-text-me type basis. And I'm normally booked on the first day for my entire season," she said.
"Booking too far in advance, it was just too overwhelming. I wanted to be able to solely focus on my brides who are getting married in 2023," she said.
Plus, "it kind of gives everybody who's getting married in 2024 a fair shot at getting me to be their baker."
Jordan said she bakes, on average, 150 cupcakes for a wedding.
"I'm a one person show." she says, first meeting with the brides and grooms to discuss flavors. "I'm also the one that sets up and delivers that day and creates that beautiful display at the venue."
Initially Jordan offered a full menu of cake items, but she now focuses just on cupcakes — with one exception. She often prepares a small traditional cake just for the bride and groom. "Just for them to literally cut into, to get that picture. That picture perfect moment," she laughs.
"It's funny because as the years are going on, I feel like my brides and grooms know Baked by Jordan because of my cupcakes. So instead of getting the cake, they each want a cupcake to just bite into. Because then they can each have their own flavor."
Jordan has a "list" of why people should choose cupcakes instead of full cakes.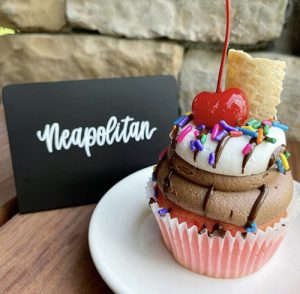 Number one: "A cupcake you can hold in your hands, and you can dance on the dance floor at the same time."
"I love how the cupcake display becomes a main focal point in the room," she adds. "Everybody's talking about the cupcakes, It's less waste."
"I could go on and on!" she says.
Jordan does confess, "I don't like cake. I've never liked cake."
Why bake then? "It's a creative outlet. It's something that I can pour myself into. Doing something with my hands. And again, it's that attention to detail — that gives me that high," she said.
Personally she says she prefers a "bowl of cookie dough, or a bowl of ice cream."
But she also points out that she can fill her cupcakes with cookie dough.
Regular flavors include Funfetti Cookie Dough and Strawberry Shortcake, seasonally; Cherry Limeade, Dirt Pudding.
"They're very animated," Jordan says. "I try to get down to those little details."
Her Neapolitan cupcake "is strawberry, vanilla, chocolate, that piece of the cone, the rainbow sprinkles. It's those details."
Jordan's cupcakes are available at Kelly's Roots — fresh on Mondays and Thursdays; during holiday Instagram promos @bakedbyjordan.ny; or weddings she caters.
Copyright © 2023 Lone Oak Publishing Co., Inc. All Rights Reserved