By Mark Frost, Chronicle Editor
As it is, 13 Hadley-Luzerne High School graduates each received $2,000 this year toward college expenses, courtesy of a $1-million bequest of Alice Harris, the long-time proprietor of Harris Grocery, who died at the age of 97 in 2007.
Now another gift from Mrs. Harris — of 107 acres in Lake Luzerne, has resulted in creation of the Harris Nature Preserve. Trails will be created, facilitating hikes up popular Potash Mountain. The Preserve will also have an educational component, again in conjunction with the Hadley-Luzerne school.
The 107 acres donated by Mrs. Harris's estate don't quite reach the state-owned, quite steep peak of the mountain.
But adjoining land owners Richard and Joanne Sehlmeyer donated a triangular shaped 6.6 acres that connects the Harris preserve with the state land.
"Everybody loves Potash Mountain," says Jim Mosher, who chairs the board of the not-for-profit Harris Land Preserve, Inc.
He says the short steep climb goes from 645 to 1,750 feet at Potash's peak. "It's gonna be a nice challenging little hike for anybody."
Mr. Mosher and his wife Becky bought Harris Grocery from Mrs. Harris in 2001 and were her late-in-life care givers. She lived next door.
Loren Harris passed away in 1998 at the age of 89. Alice died on her 97th birthday, May 23, 2007. The Harrises operated the store for 56 years.
Plans for the preserve got a big boost in December, with announcement of a $105,000 grant from New York State. "The funds are earmarked for Trail Construction and Infrastructure, to be used over the next 3 years," writes Mr. Mosher.
He credits Wayne LeMothe, Warren County Planning/First Wilderness Corridor Project Manager, for landing the grant.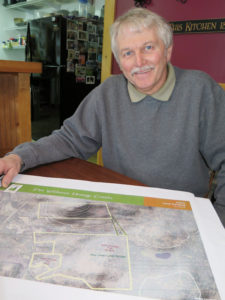 Steve Ovitt of Wilderness Property Management, Inc. will create the trails, as he has done in Queensbury and elsewhere. Mr. Mosher said they've already learned that directional signs can be funded by the state grant, but instructional signs cannot.
His fellow board members include Hadley Luzerne School Superintendent Beecher Baker as vice-chair, Larry Bennett as treasurer, Janice Waterhouse as secretary, and Luzerne Grocery owner Steve Mackey.
Mr. Mosher also credits Mrs. Harris's attorney Bob Bosman for helping realize the project, and Luzerne Town Supervisor Gene Merlino for support, including arranging for Buddy's Tree Service to do some preliminary work.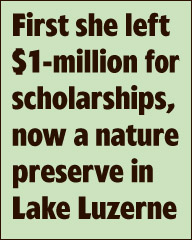 "In one workday, Dec. 22, Buddy's crew cleared and graded the parking area — nearly good enough for surfacing."
The preserve will be free to use, which Mr. Mosher said exempts the not-for-profit from legal liability.
He said the preserve will prohibit snowmobiles, four-wheelers, any motorized vehicles and overnight camping.
Mr. Mosher anticipates construction of a structure, perhaps a lean-to. "They want some kind of building for the kids in inclement weather," he said. "They can certainly learn a lot" here.
"It's open to the public. It's got the educational component. It's what Alice wanted. She would be thrilled," said Mr. Mosher.
The $1-million that Mrs. Harris left in trust in 2007 to fund annual college scholarships for Hadley-Luzerne grads has grown, so that 13 students each were given $2,000 this year, up from 10.
The students can receive $2,000 each year of college. Mr. Mosher says that Mrs. Harris's view was, "If they're needy, they're needy. I want to be able to help kids go to school."
Mrs. Mosher participates on the scholarship committee, aiming to keep the benefactor's priorities at the forefront. It isn't just about the highest grades.
"If they really had the desire to go, that's who Alice wanted to help," said Mrs. Mosher. She was looking for: "This person's gonna try their best, that they're gonna put everything into this."
Mr. Mosher said that more funds will need to be raised for the Harris Nature Preserve. For more information, he can be contacted at Harris Grocery, 696-4630.
Copyright © 2017 Lone Oak Publishing Co., Inc. All Rights Reserved.