By Cathy DeDe, Chronicle Managing Editor
For the 25th straight year L.P. Adams Lumberyard will compete in the Lake George Winter Carnival outhouse races. That's a long run, especially considering they come from Dalton, Massachusetts.
"When I was a teenager, my father and a group he worked with were looking for something to do in the wintertime," says Todd Adams, seventh generation co-owner with his brother of their family lumberyard, founded in 1900.
He says his father and some friends came to the Winter Carnival for the on-ice car races, "and happened to see something about the outhouse races."
He recalls: In 1991 they came and watched the event. In '92 they raced, and in 1993 they brought Todd and some of his friends to join the team. "We've been going ever since."
"Everyone down here thinks of it as a mini-vacation," Mr. Adams says. "We love the people. We have a great time with the other outhouse racers, and we're friends with Linda Duffy, Gigi, all the restaurants."
Theirs is the distinctive orange "No Fear" outhouse.
"It's pretty straightforward," says Mr. Adams. "It's four foot by four foot, eight feet high, the LPA logo on it, set on downhill skis. Two people pull, two people push, with one person riding in the toilet seat."
This year, Mr. Adams says they'll have 14 people come up on Friday night. Another half dozen or 10 will join them on Saturday for the race.
All are family members, employees or acquaintances of the lumberyard, he says.
They stay at the Fort William Henry.
"Everyone treats us well. When the weather is not negative 25, it's really great."
Given that the lake is frozen and the weather forecast seasonable, "we are excited to be on the lake this year," he says.
And their prospects for the race?
"I don't know," Mr. Adams laughs. "We are getting older and slower, and everyone else is getting faster."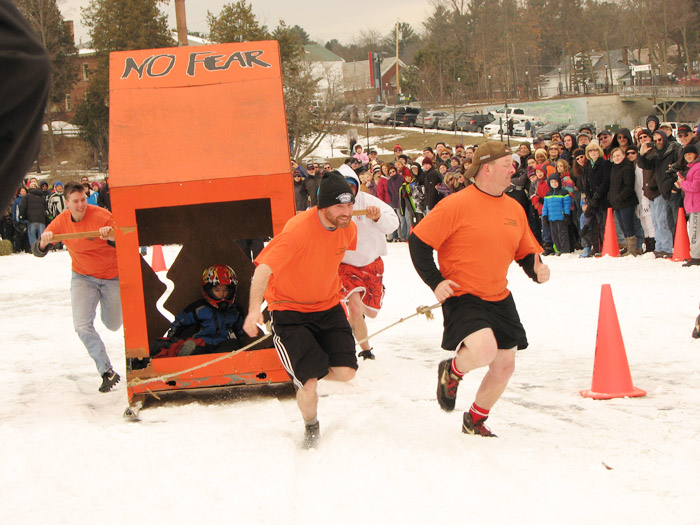 Copyright © 2018 Lone Oak Publishing Co., Inc. All Rights Reserved.