By Mark Frost, Chronicle Editor
I've long been aware of the historic little doctor's office at 5 Culvert Street, just off Warren, in Glens Falls. I've frequently taken visitors by to see it.
But I didn't realize until last Wednesday — when I received an email from Adirondack Architectural Heritage (AARCH) — that the City of Glens Falls was about to knock it down.
Nor had I realized that the city has owned the building since 2014, having foreclosed on it for non-payment of taxes.
Now it's in dismal shape, and Glens Falls sought bids to demolish it. A decision was set for Tuesday night's Council meeting.
I don't want to see that demolition happen, and several other people — led by local industrial redeveloper Eric Unkauf — want to save 5 Culvert Street, too.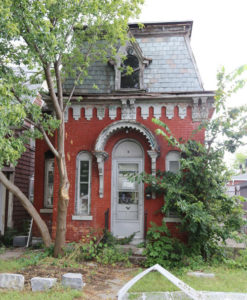 Thursday I went with Eric and Mary Cirbus of Adirondack Architectural Heritage to examine the building. It is in imminent danger because any heavy snow load seems likely to collapse it.
There's urgency as to the weather but also as to seizing an opportunity we shouldn't squander. Eric says his Facebook posts about the plight of 5 Culvert have drawn offers of money and assistance from many people, the beginning of a real grass-roots drive.
After I saw the building Thursday with Eric and Mary, I went back to my office and phoned Bob Joy, the JMZ (retired) architect who told me that not only does he know 5 Culvert Street, he once owned it. Bob volunteered to go right over and take a look. What he saw prompted him to go the next step: He wrote a letter to Mayor Jack Diamond that calls the building "a unique gem that speaks to an important part of our history."
The building, by the way, once was the medical office of the "esteemed" Dr. James Ferguson, who after his retirement bought the top of Prospect Mountain and built the hotel and then the sanitorium that existed there.
Bob Joy wrote the mayor, "I visited the building yesterday and was prepared for the worst. My first impression seemed to confirm that it was too far gone to rescue. However, as I…studied it more carefully" he determined that "while the deterioration is significant, I feel the building could be stabilized and successfully renovated. It would require a complete gutting of the interior, but doing so would result in a new building within the historic shell that would meet all current codes."
He wrote, "I understand that the City will be receiving bids on demolition next week. I urge the Common Council to table acceptance while other options are being explored. I am willing to contribute my knowledge of the building and expertise as a retired architect to the City or any group or individual who may be interested in acquiring the property."
Over the weekend I texted or emailed all six Council members, urging them not to demolish 5 Culvert — and to pursue its restoration.
Councilman-at-Large Dan Hall got right back to me: "I am glad to see the grassroots effort. I know that the City would like it to be bought and hope that happens."
Let me note that Rich Cirino, who is running against Dan for Mayor, came to Tuesday night's meeting and addressed the Council, as I did, urging rescue of 5 Culvert.
Ward 2 Councilman Bill Collins quickly replied to my text, too, writing in part, "The city has no desire to demolish any buildings, let alone one on the historic register….I can tell you that I would be happy to sell the property to anyone who has the resources and a reasonable plan to quickly make it safe and fairly quickly rehabilitate it."
The immediate goal and necessity is to stabilize the building so it doesn't collapse from the snow. Eric says a structural engineer has volunteered to help. If 5 Culvert can be put into survival mode, my best-case scenario is that an individual would emerge to buy and restore the building, rather than our trying to formulate some ad hoc ongoing group.
If you want to help in any way, feel free to contact me at The Chronicle. If you want to buy 5 Culvert Street, contact Mayor Diamond!
I believe that historic preservation is another critical component of Glens Falls's revitalization. Look at Troy and Saratoga. They've capitalized big-time on their heritage. Peter and Suzanne Hoffman have done the same in downtown Glens Falls.
But walk two blocks from the city center and you see one historic house after another in bad to horrible condition. We need people to restore and maintain them, but the city must set an example to start the ball rolling.
At the very least, when the city seizes a building, I hope they'll seek and broadcast a loud call for redevelopers. The opportunity and fate of 5 Culvert barely registered in what will hopefully prove to be the nick of time.
At Tuesday's Council meeting, Mayor Diamond gave 5 Culvert a temporary reprieve. "If someone has a plan by the first [Council] meeting in November, I'm open to talking about it," he said. Now, hopefully, comes action.
Copyright © 2017 Lone Oak Publishing Co., Inc. All Rights Reserved.