By Cathy DeDe, Chronicle Managing Editor
Queensbury Middle School's entire eighth grade class — 240 students — got a rare look at an industry in action when Finch Paper brought them in for tours and talks to understand what happens inside the paper mill — and the many ways that they might be a part of it.
Finch president Eric Wood and Queensbury Superintendent Kyle Gannon told The Chronicle, separately and with obvious enthusiasm, the Dec. 21 tour was part of a long-standing relationship between Finch Paper and the school.

Queensbury's approximately 240 eighth-graders were divided into two groups. Each spent half the day at Finch and the other half at the Plumbers and Steamfitters union training center on Luzerne Road learning about welding and other industrial career paths. Lunch was in the community room at the adjacent West Queensbury Fire Station.
This reporter joined the morning group at Finch. Sixty of the kids at a time attended an illustrated talk. The others were split into smaller groups of 15 to see the papermaking operation.
Glenn Erskine, one tour guide, told me he is a fourth-generation papermaker. His son, also at Finch, is fifth-generation.
Mr. Erskine started 36 years ago on the floor, graduated to running a machine, then quality management and he's now a sales account manager.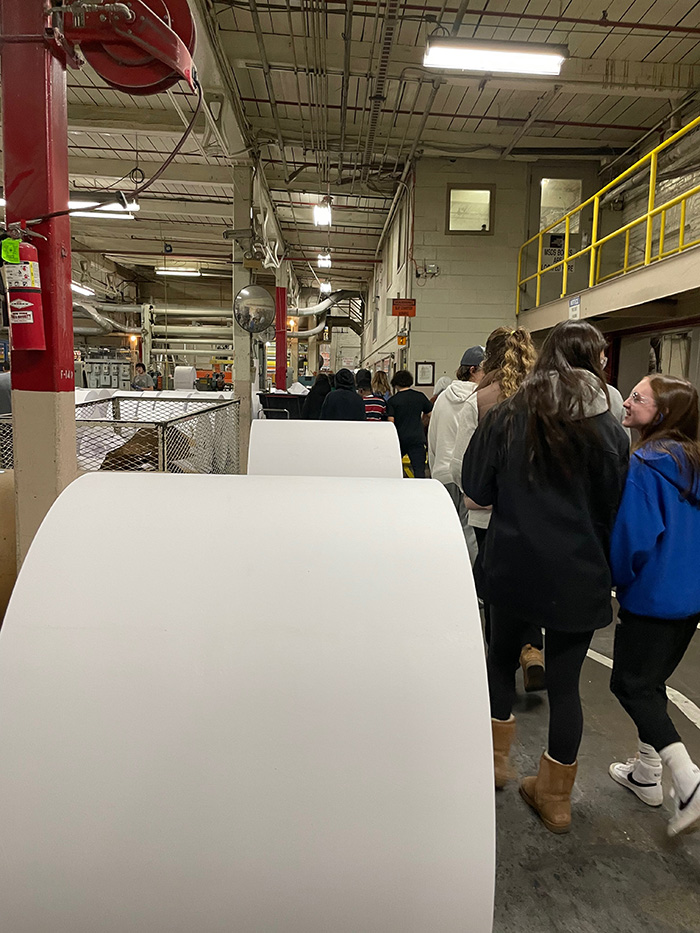 Students, meeting afterward with company president Mr. Wood, remembered facts they'd learned — like about products that use Finch Paper, from Tootsie Pop sticks, Applebee's menus and paper cups and plates to high-end photo books, other publishing and branded store bags.
Kids even remembered that the seemingly white paper is in fact tinted slightly blue, a color more pleasing to the human eye.
'Careers to be had'
The bigger message: There are jobs — and good careers — to be had right here at Finch. On the factory floor, but also in finance, engineering, human resources, tech, marketing, sales and forestry.
"Project Lead the Way" is Finch's plan to do more outreach to additional schools, supporting their STEM education in Science, Technology, Engineering and Math, Mr. Wood told me.

They've previously done paper-making programs for Queensbury second graders, tours for fifth-graders, and Mr. Wood personally coaches the Robotics team at the school, which his own kids attend.
School Superintendent Mr. Gannon said this eighth grade outing was through the district's new Career Exploration, which takes the place of what was Consumer Careers, or, back in the olden days, Home Economics and Shop.
Kids learn practical skills, Mr. Gannon said, and they're exposed to career paths available in their hometown, whether they go to college and come back here, choose a technical training path, or start working right out of high school.

"Paper making is a very challenging skill," Mr. Wood told The Chronicle. "Whether you go to college or work your way up in the factory, it's about putting in the time and learning what you need to make a career."
Long-time Finch employee Chris Dake told the kids he started right out of high school as a laborer, building to leadership positions on the floor, in the union, and now on the management side.
"Laborers in their first year are making $55,000 a year," Mr. Dake pitched.
"It's a huge career out of high school. It allowed me to purchase a house, send my kids to college, a dream come true," he said. "Compare that to the sign in the window at the fast food places for $15 an hour. This is a career, not just a job.

strong>Cathy's first time inside Finch Paper, 'like Willy Wonka'
Chronicle Managing Editor Cathy DeDe writes: The tour with Queensbury Middle School's eighth graders was my first-ever opportunity inside the Finch operation. I felt like a townsperson finally getting to see what happens in Willy Wonka's candy factory.
No, there's not a chocolate river, but it is another world: Oversized panels of important-looking dials and lighted buttons, giant rolls of paper in all their stages of production, steam heat carrying with it the woody smell of wet paper and the scent of machine oil, massive 100-year-old machines, pipes and fans and vats of who-knows-what, the efficient tick of a packaging line.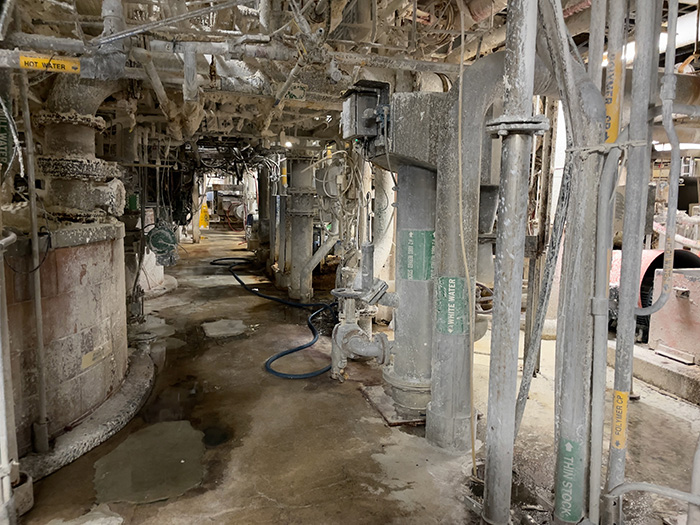 I'm re-thinking my career choice. Unlike Veruca Salt in the Willy Wonka movie, I don't want an Ooompa Loompa. I want to be one of those deeply skilled guys who gets to work the machines. (And guys they are, though HR person Tracey Riley told me Finch is working on hiring more women.)

Finch by the numbers: $1-million sales a day
Some facts and figures gleaned from our tour of the Finch Paper factory:
$1 million every day: Approximate revenue generated by Finch paper, on sales of about $350 million a year (also why Finance might be the most important department at Finch, President Eric Wood said)
$80,000: Approximate value of products on a typical truck leaving the Finch factory, about 21 tons of paper
$55,000: What a laborer typically earns in the first year at Finch
600: Employees currently at Finch. Human Resources person Tracey Riley says they're still hiring
350-400 tons a day: Amount of paper typically produced by the 1962 machine they call "Big Pig." That's about half the day's entire production
100 trucks of paper a month: What Finch provides to Amazon, for printing on-demand books. (3 hours: Time from when you place an order to when the finished book is ready to ship, Mr. Wood added)
82 acres: The Finch campus along the Hudson River in Glens Falls
160 years: How long Finch has been in business, "and we'll be here another 160 years," tour guide Glenn Erskine told the students.
"Finch is in a strong position. We are smart enough to survive. We control our own destiny."
1865: Year that Finch, Pruyn Company was founded. "During Civil War time," Mr. Wood noted
1904 & 1917: Years the factory's first two papermaking machines were built; both are still in operation
1905: Paper production began
1933 & 1962: Years the factory's "new" machines were built
24/7: How often the machines run
30%: Amount of the factory's power provided through its own hydro generators. In all, the factory generates about 70% of its own power on site
6-7%: Finch's share of the paper market. "We don't want to be 21%," Mr. Erskine said. "This is where we want to be. This is what Finch does."
— Cathy DeDe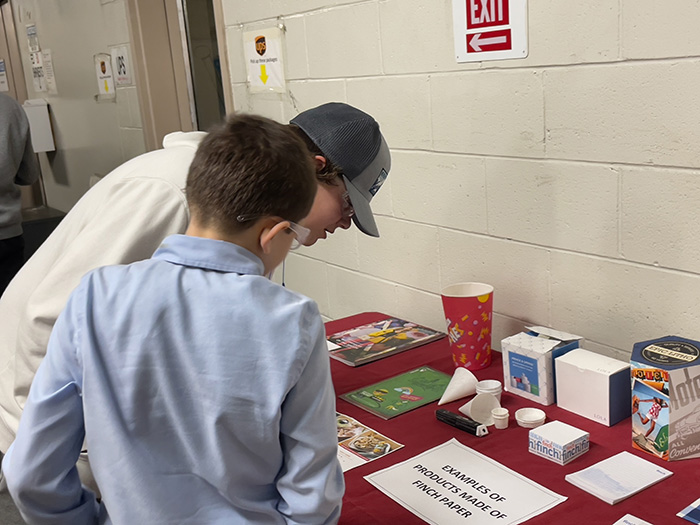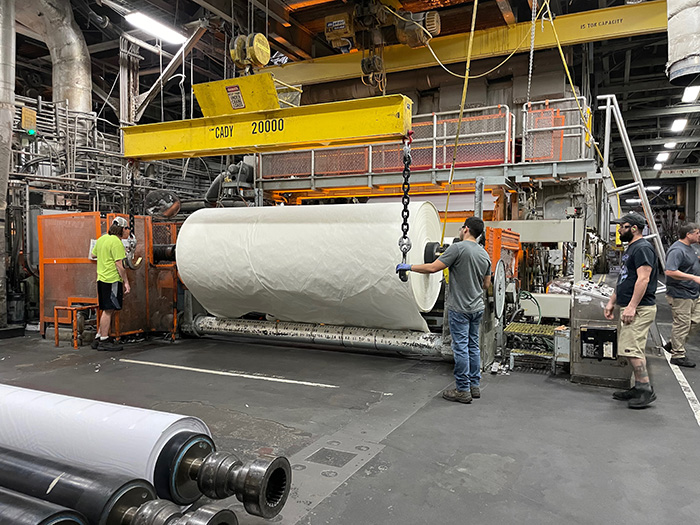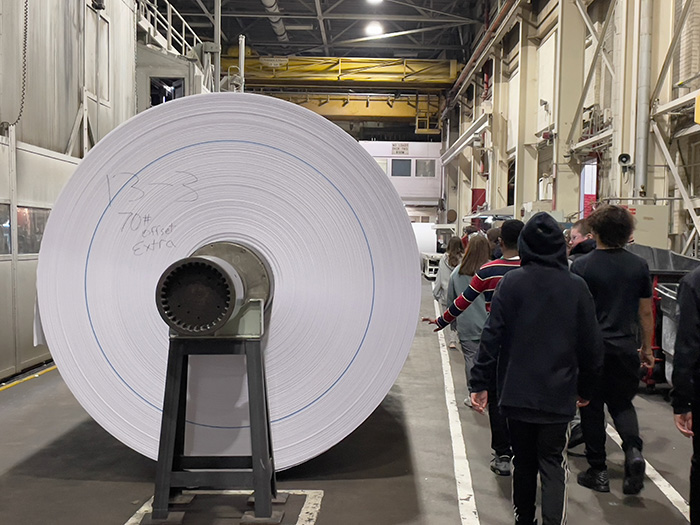 Copyright © 2023 Lone Oak Publishing Co., Inc. All Rights Reserved