By Cathy DeDe, Chronicle Managing Editor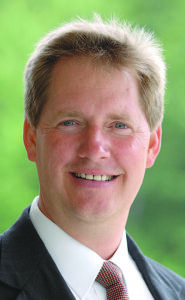 Was it a coup that got Todd Kusnierz elected this month as chairman of the Saratoga County Board of Supervisors?
"In the financial world, they'd call it more like a hostile takeover," the Town of Moreau Supervisor laughs.
Mr. Kusnierz says several board members objected to the County's response to the Covid pandemic and what he termed the "pay debacle" after the then County Administrator opted to pay time-and-a-half "hazard pay" during the pandemic.
Mr. Kusnierz said the rift between small and large towns was such that "not a single supervisor from the large towns" was assigned a chairmanship last year.
Historically, he said, the Board elects the Law and Financial Committee Chair as the next Chairman of the Board. That would have been Dan Pemrich of Greenfield, succeeding 2020 Board Chair Preston Allen from the Town of Day.
But supervisors from the larger towns formed a coalition they called the "Northway Corridor Public Health Task Force."
"We tried to elicit change with a unified voice," Mr. Kusnierz says. "We called for meetings, but none of that happened. We weren't treated as equals on the board, so we coalesced around moving forward with a plan to have a true vote over the chair, and I won with the weighted votes," based on each town's population.
"No one should think we did this on a whim," he added. "There were voices that weren't being heard and actions that weren't being taken."
He says he told Mr. Pemrich in December that the move was in the works. "They were not blindsided, as some people said."
'Covid, Covid, Covid'
Moving forward, Mr. Kusnierz says the focus of his "four point plan" starts with "Covid, Covid, Covid — like a laser."
The plan? "Informing residents of what is happening, taking action that produces results." He said his goal is to have "all Supervisors involved in the day-to-day operations of county business."
"None of this was going on before," Mr. Kusnierz observes. "My first seven days as Board Chair I held two press conferences. I have met with department heads and employees to let them know what is going on. I've called on all departments to make Covid our number-one priority."
City Center ready for 24/7 vaccines
He said he worked with the Public Health department, the County's recently installed Commissioner of Health Dr. Daniel Kuhles and the Sheriff's department to ready a plan for vaccinations.
"We've secured the City Center in Saratoga as a mass vaccination site. If someone sends a tractor trailer of vaccinations, we have the ability to go 24/7, 365 days a year until the vaccines are gone or all of our residents are vaccinated."
But Mr. Kusnierz hastens to add a reality check: With Governor Cuomo's evolving focus on state-run vaccination sites, the county is receiving fewer, not more doses — dropping from about 1,500 vaccine doses every few days to about 300, he says.
Still, he asserts, "I'm focused on making Saratoga County the first in the state to have all our residents vaccinated." As of Saturday, he said. 15,490 people — "almost 7 percent of the population" had received at least one dose, and 2,325 had received a second dose.
'Tech is 20 years behind'
He's also put a new emphasis on technology, he said. Currently, listening by phone is the only way to remotely access Board or Committee meetings, which are closed to in-person attendance due to Covid.
Mr. Kusnierz asks, "We are the benchmark for other counties as far as financially and with economic growth, and yet we are still 20 years behind in technology?"
He said the 2021 budget includes Information Technology upgrades, funded through occupancy tax revenue, to get meetings up on Zoom, Facebook Live and YouTube, as Warren and Washington Counties already do, "but it's gonna take us a couple of months," Mr. Kusnierz said.
The County also ousted 30-year administrator Spencer Hellwig and hired Steven Bulger to succeed him. Mr. Bulger most recently was the federally appointed regional administrator of the Small Business Administration. Mr. Kusnierz says Mr. Bulger has "decades" as a leader in state and federal government, including about a year and a half as County Republican Chair.
Asked about accusations that the Board fired Mr. Hellwig without warning, Mr. Kusnierz deferred. "The majority wanted to go in a different direction," he said.
"It's a fresh start. We are doing things completely differently. Meetings are more formal, more respectful of individual supervisors than in the past.
"When I made committee selections, it was the most diverse mix of small and large towns, gender and party balance probably in the history of the County. I've made appointments that included some of my harshest and most outspoken critics. They bring something to the table."
For now, he says, "It's all about Covid. I'm hopeful, as are other leaders around the state, that the availability of vaccines shakes loose quickly. The only way we move forward, to have racing at Saratoga Racetrack, a full Racino and SPAC is if we put the Covid pandemic behind us."
Copyright © 2021 Lone Oak Publishing Co., Inc. All Rights Reserved.