By Gordon Woodworth
Chronicle News Editor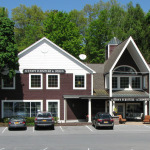 Sutton's, the sprawling retail campus on Route 9 just south of the Great Escape, is under contract to sell its furniture store and a portion of the parking lot to Mario and Diane DiSiena, The Chronicle has learned.
Jon Lapper, attorney for Sutton's Properties, LLC, said the Mr. and Mrs. DiSiena own and operate The Furniture House on Saratoga Lake, and plan to open a similar store at the Sutton's site.
"They are under contract to purchase the building," Mr. Lapper said.
He said the closing is contingent upon the DiSiena's receiving approvals from the Queensbury Planning Board and Zoning Board of Appeals.
Mr. Lapper said Donna Sutton "will then focus on the marketplace and the restaurant."
He said if the proposed property subdivision is approved, he expects the sale to close by the end of July.
The DiSiena's would then make some "interior cosmetic changes before opening up very quickly after that."
Mr. Lapper would not disclose the purchase price.
Sutton's has sold off much of its property on Route 9 in recent years.
In 2009, it sold the former Sutton's Clothing Collection building to John Max Miller for $990,000.
In 2011, it sold its former Village Collection building to Louis Jewelers for $550,000.
And in 2012, it sold the former Smokey Bear's BBQ building to Eric and Kathy Josten of Cup O' Joes for $500,000.